Television & Film
The Film Studio in Your Pocket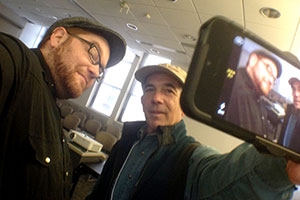 With a Sundance premiere and distribution deal for Tangerine, made on an iPhone, it's clear that you don't need a truck full of equipment to make a professional film project these days. "[A]nyone interested in filmmaking or photography doesn't need to get hung up on technology. It's not the tools that make the real difference. It's the person using the tools," says American University Professor Larry Engel. That's one of the reasons he and fellow School of Communication professor Kyle Brannon are bringing phone-based filmmaking to the masses, and their next stop is an SOC Week workshop Tuesday, February 24 at 4:15.
SOC's Domanique Jordan was able to talk with Brannon and Engel about smartphone filmmaking and the workshop.
SOC: What should students expect from the upcoming workshop?
KB: An introduction to some of the equipment and apps out there that make smart phones more robust video cameras and practical tips & tricks to shooting better footage.
LE: To come away with a new understanding about how to use their smartphones and get a chance to meet a couple of cool faculty.
SOC: If there is one thing you want students to walk away with when they leave the workshop, what would it be?
LE: It would be that anyone interested in filmmaking or photography doesn't need to get hung up on technology. It's not the tools that make the real difference. It's the person using the tools.
KB: Similar to what Larry said - that technology isn't ultimately the most important thing, and with current advancements in technology [students] have very capable tools in their pockets. It's ultimately all about technique.
SOC: What led you to create the workshop? And how have you expanded the idea to your courses?
KB: Our workshop is geared towards both students and other professors. There is a growing group of professors across AU who are incorporating video projects into their classes and their research. We've had a number of professors ask us to do demos in their classes to help their students create better video-based research, for example.
There's a benefit to showing a video to communicate ideas quickly to others that people are taking advantage of, and some of the basic skills required (like uploading to Youtube) are so ubiquitous now that they should be taking advantage of them.
As we've been teaching basic techniques for better media production in [SOC's] general education Visual Literacy course, it occurred to me that it would be a great way to pilot an all smart phone production approach in a class. We've been using smart phones, testing out a variety of lenses, tripods, apps and sharing work with tumblr, all without sacrificing the aesthetic lessons that have been passed down since people started creating images.
LE: I think that the workshop Kyle and I developed has allowed non-media students to come away with confidence about taking better photos and making better videos. The idea [behind it] is that in this day and age where on-the-street experiences are documented and shared worldwide, the democratizing of media is critical to democracy and communication about various publics. The new go-to tool is the phone in your pocket.
SOC: Technology has made everything easier and faster. Tell me, in what ways has technology changed filmmaking?
LE: Miniaturization has been going on in film and photography since both were invented. That's nothing new, really. What is new is that affordability is also now part of the equation, and that allows more people more access to making media, that hopefully matters.
KB: I agree with Larry that the miniaturization isn't new, I have 8mm film and still cameras that are over 30 years old. But to add to what he said - I think the social interaction makes a huge difference now, in addition to the affordability of the tech. You can build an audience through hard work and perseverance without a huge investment of cash. You might not achieve the huge numbers expected of filmmakers in the more traditional media landscape but if you're creating a good product and are dedicated to getting the word out through social media and online distribution portals (many of which are free), you can build up thousands of viewers.
SOC: Are there specialized apps students can download that can help with the filmmaking process?
KB: There are lots, but I can highlight one app - Filmic Pro. It's been in the media recently as it was used for Tangerine, the first feature film to appear at the Sundance film festival shot entirely on an iPhone.

LE: Plenty. We have compiled a Google spreadsheet with several of them: http://bit.ly/smartphonefilmmaking many are free, but some are not.