Journalism
The Face and Voice of the Newseum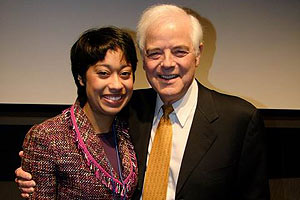 Sonya Gavakar, SOC/BA '99, has a unique job. The School of Communication journalism graduate is "the face and voice" of the Newseum, appearing on camera for several exhibits and shows as well as producing and editing video content for exhibits.
The Newseum,  a 250,000-square-foot museum of news,  offers visitors an experience that blends five centuries of news history with up-to-the-second technology and hands-on exhibits.
After graduating from American University, Gavankar worked in television in various capacities, including helping CNN with coverage on the war in Kosovo.  She began working at the Newseum as a production assistant, working her way up into her current role, which puts her at the center of Newseum visitors' experience.
Gavankar says that the singularity of the Newseum makes her job multifaceted.  "We have more than 130 video and interactive monitors at the Newseum, which means we have to create and update the content that appears in them," she said. "We are currently building a new exhibit on how news will be covered and consumed in the future. Our team is brainstorming what the future of news will be — from smartphones to motion capture."
She credits her wonderful experience at American to the real-world professionals that were her professors.  "All of my professors were working journalists, and having the ability to create programming on ATV allowed me to quickly find my voice and learn the tools of storytelling," she said. "When I entered the workforce, it was just a matter of staying up to date on technology."
Gavankar's advice to up-and-coming journalists is that journalism is all about storytelling, regardless of which technology you use.  "Go out and start reporting — now. Calibrate your gut instinct early through experience, and you will be a great reporter."