Communications
Student Media Leader: Sydney Gore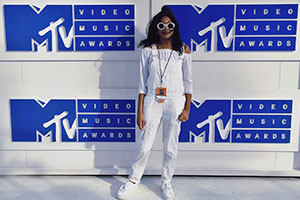 American University student media leaders share their experiences and lessons learned working at various AU media outlets, and discuss how SOC has contributed to their success.
Year: 2015
Major: Print Journalism and Marketing
Position: Freelance writing for several major blogs

SOC: You're not doing a traditional internship this semester. What are you doing outside of your classes?
SG: While I think that internships are an important part of gaining experience before entering the "real world" of whatever your career is, there's this overwhelming sense of pressure that is placed upon students to constantly intern while also attending school. After this summer, I felt completely burnt out-- I have interned every semester since the summer before my sophomore year. I decided that this semester I should focus more on my academics and my writing since this is my last year of college. A few of my mentors recommended trusting my instincts and taking a breather, and I'm so glad that I listened to them.
I've always been really into blogging since high school-- that's actually what I wrote my college essay about for all of my applications. I have one Wordpress account and four different Tumblr accounts because I have all of these ideas for projects that I start working on, don't usually finish, but come back to when the creative juices are flowing.
Outside of AU, I work part-time for Pigeons & Planes (pigeonsandplanes.com), All Things Go (allthingsgomusic.com), The Toast (the-toast.net) and The 405 (thefourohfive.com).
SOC: What do you do specifically in each role?
SG: For Pigeons & Planes, I primarily freelance music feature pieces which can be anything from interviews with artists to news posts, think-pieces and listicles. I usually write album reviews for The 405 and single reviews for All Things Go. When I pitch ideas to The Toast, they typically revolve around trends that I notice in pop culture and society.
SOC: How did you get involved?
SG: This summer, I interned at Pigeons & Planes (P&P). It kind of happened by chance-- I was already interning at Seventeen, and then P&P posted on Facebook about how they were looking for interns. They're my favorite music blog so I didn't hesitate to apply. I was upfront about already having an internship in my email, but I basically gushed about how much I loved P&P and how it would be an honor to work for them in any capacity. I didn't hear back from (P&P writer) Confusion for a few weeks and got worried, so I sent a subtle follow-up email and then he got back to me within the same day and asked if I could come in for an interview. I went the next day. It was super chill, and the next morning, I had an offer sitting in my inbox. After the internship ended, I got promoted!
I became a contributing writer for All Things Go after interning there last year, a pretty simple process.
The 405 happened randomly-- one of the editors followed me on Twitter, I clicked on the site because I had never heard of it since it was based in the UK, liked what I saw, and then I applied as a contributing writer before I went abroad to London.
As for The Toast - this is a funny story. My friend was talking about Mallory Ortberg one day while we were in the Billboard office. I went on Ortberg's Twitter account and saw that she was talking about High School Musical and the secret underlying love relationship between Lucas Grabeel and Corbin Bleu's characters. Having thought the same thing for years, I tweeted to her about it. We engaged in a passionate conversation for about an hour, and then she followed me back. Before the end of the day, she sent me an email about my writing and how talented she thought I was and how she wanted me to write for her site, The Toast. Nearly a year later, I finally pitched her something and it got published.
Twitter is my greatest resource, basically.
SOC: Have any SOC classes helped you with your internship/job? What specific skills/classes?
SG: Digital Skills with Professor Lynne Perri changed my life. Learning how to code and use HTML has given me a huge advantage over so many other interns that I have worked with. During my internship at Billboard in 2013, I worked with the online editorial team and knowing HTML was crucial for my internship. I wrote posts every day and if I hadn't understood how to format them, the editors would have probably hated giving me assignments because they would have to take the time to teach me how to do everything.
SOC: Describe another time SOC has helped you in your professional life.
SG: My internship at Pigeons & Planes also required me to be familiar with using the Wordpress template and HTML codes for posts. On a different note, when I was at Seventeen this summer, I was the only journalism major in the Features department! Sometimes, I had to teach the other interns the basics of journalism. Because of my background, the editors trusted me with a lot of the more important tasks because I understood how to work on deadline, where to find solid research, and how to format documents in the Seventeen style. 
Find out about Gore's work with AU campus media organizations, favorite study place and top profs in the full text of interview