Communications
Student Media Leader: Eleanor Greene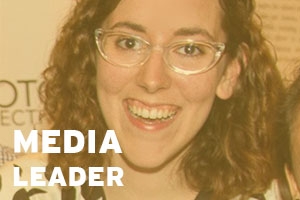 American University student media leaders share their experiences and lessons learned working at various AU media outlets, and discuss how SOC has contributed to their success.
Eleanor Greene
Organization: AWOL Magazine
Major: Journalism (minor in creative writing)
Internship/Job: WAMU digital media intern by day, AU Writing Center Consultant by night
Favorite Course: In SOC, Advanced Reporting but I also love LIT 401 Poetry workshop
Jordan-Marie: How did you get involved with AWOL? Why did you want to be an editor?
Eleanor Greene: I got involved with AWOL in the winter of my freshman year, because I was a journalism major and had never written an article in my life. I knew that was a problem and that reporting classes didn't come until sophomore or junior year. I read all of the student publications, and liked the look of AWOL, so I went to a general interest meeting and it clicked. I wanted to be an editor because I grew up reading books and magazines, and that's what I always wanted to be involved with. The book that inspired me most was A School Story, by Andrew Clements, which I read in fourth grade, and is about a young author and her editor mother. I wanted to make it my job to read books, and editing seemed like the way. As I got more into magazines, I read a lot of mastheads (still do), and knew that if I wanted to be involved with magazines, editing was also the way. I love reading, and I always have opinions, so I feel like an editor as much as a writer.
JM: What's been challenging for you as AWOL's editor-in-chief?
EG: As a writer, I've been trained and conditioned to work alone, most of the time. Reporting is alone, writing is often alone, save for a few class projects. I trust myself. But as EIC, I've had to find a way to delegate to other editors and trust them to get work done. It has been challenging, but luckily I work with an excellent editorial board who understands how I work, and also how to do their work.
JM: You're interning at WAMU this semester. What kinds of skills are you learning on the job that translate to AWOL, and vice versa?
EG: My internship at WAMU is just gearing up. I struggle with finding stories to pitch at both places, but I think with practice, I'll get better, so that's one thing. Also just seeing the different leadership styles of different editors at WAMU is interesting. There's room to manage and be managed by different kinds of people, but it's all about what you respond to as a writer, and as an editor, what your staff responds to.
JM: What are some of the things you have learned as an SOC student that have helped you through your internships and student media position?
EG: I actually think that my student media experience has influenced my SOC experience a lot. I feel like I learned how to write an article and be heard by my editors as a writer in AWOL, and I've learned how to speak up and take leadership roles. All of this gave me confidence when I was actually in writing classes in SOC. In class, professors give more critical advice, which is helpful as I strive to be a better writer. I've also had to try to get over my inherent fear of reporting, which is not easy, but is getting better.
JM: What would be your dream job after you graduate in May?
EG: As for my dream job when I graduate, I most dream of working in publishing in New York. Magazines or books are still what I'm most passionate about reading, editing, and writing, but we'll see. I have a lot of interests, and I want to keep my mind open to different places and paths.