Communications
Student Media Leader: Mark Lieberman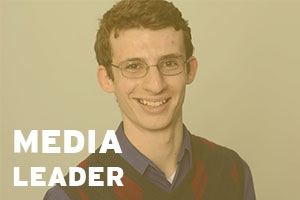 American University student media leaders share their experiences and lessons learned working at various AU media outlets, and discuss how SOC has contributed to their success.


Organization: The Eagle and Social Media Club
Major: Journalism
Internship: The Washington Post - Spring 2015 Metro Intern
Favorite course: Reporting with Margot Susca

Jordan-Marie: What has working with The Eagle been like for you? How did you get involved?

Mark Lieberman: I got involved almost immediately after I got to AU. I showed up to one of the early Scene pitch meetings expecting to meet a few people and maybe get my foot in the door. I walked out with a movie review assignment. I didn't enjoy the movie, but I enjoyed the experience immensely.

JM: What has been challenging for you as The Eagle's managing editor of The Scene?

ML: The two biggest challenges are keeping track of all of the stories that come in and stopping myself from wanting to write more than I do. My job is to edit the stories that come in, not to dominate the section, but as a writer I'm always itching to jump in and contribute. As for the workload, I edit stories in each of four sections, and we have as many as twenty stories per week. That's a lot of editing! But I love my job and I'm thrilled with how it's turned out.


JM: You're interning at The Washington Post this semester. What kind of skills are you learning on the job that translate to The Eagle, and vice versa?

ML: In my first two weeks at the Post, I've learned about pitching stories, condensing my occasional verbose writing style and conducting thoughtful long-form interviews. All of those skills will be useful to me during my final semester at The Eagle. And of course my experience at The Eagle has been enormously influential in every aspect of my professional life, and even some aspects of my personal life. Nearly all of the writing and editing skills that I have come from my experience working at The Eagle, either developing them myself or watching others around me develop them.

JM: What are some of the things you have learned as an SOC student that have helped you through your internships and student media position?

ML: My SOC classes have taught me about the rigors of deadline pressure and the importance of critical thinking. My ability to come up with story ideas and maintain a consistent identity for The Scene come partially from learning about what it takes to put together a newspaper and be a reporter, skills I learned in my SOC classes. Professor Susca's Reporting class was my favorite because I emerged feeling comfortable covering news, which I hadn't before. The combination of in-class discussions and off-campus experiences reinforced and enhanced my skills. Also, Professor Susca cracks great jokes.


JM: What would be your dream job after you graduate in May?

ML: I'd love to cover arts & entertainment for The New York Times or The New Yorker. I love reporting and criticism equally, so I'll be happy with a career in either of those fields.