Communications
Student Media Leader: Sean Meehan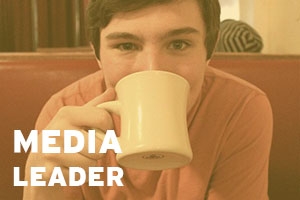 American University student media leaders share their experiences and lessons learned working at various AU media outlets, and discuss how SOC has contributed to their success.
Year: 2015
Major: Print Journalism and Literature
Internship: Current Newspaper


Where are you interning/working?
I'm the Web Editor at The Eagle and a Dean's Intern at Current newspaper which covers public and nonprofit media.
What do you do, specifically?
At The Eagle, I make sure that the website stays up and running and troubleshoot any problems on the site. I also help copy edit. At Current, I write articles about public radio and TV professionals and new projects in the field.
How did you get involved with The Eagle and Current?
I got my internship at Current by applying to the Dean's Internship program. I got involved with The Eagle during Welcome Week of my freshman year. I contacted the editor-in-chief and said that I had some experience with web management on my high school newspaper and that I was interested in helping out with the web staff of The Eagle. I was then told that the Web Editor was planning to leave in a few weeks for an internship, and so I became the new Web Editor and learned the job as I went with a lot of help from upperclassmen on The Eagle.
Have any SOC classes helped you with your internship/job? What specific skills/classes?
Any SOC class that has you actually write articles is going to help immensely if only because you so rarely get someone to read your writing so critically and attentively. Editors will tell you where you messed up, but they won't give you the kind of in-depth feedback that SOC professors do.
What else has SOC helped you with?
I've met a lot of faculty who have not only taught me how to be a better reporter and writer, but how to think like one all the time.
What's the most rewarding part of your internship at Current?
The most rewarding part of any journalism job to me is being able to talk to people and hear their stories and spread them to a wider audience, and this really applies to any field of writing I think. Covering public media, it's rewarding to know that you're recognizing people for their hard work and helping spread best practices around the industry. I also hope to work in non-profit or public media after graduation, so it's been really cool to cover the whole industry and get a better understanding of how it all works.
Fun Qs:
What do you like to listen to when you work?
If I'm doing research I like to listen to whatever is playing on WVAU. If I need a pick-me-up I listen to dancier synth things like Erasure and New Order. If I need to write really quickly - and I acknowledge that this is cheesy - I put on either Meatloaf or some really hardcore stuff like Leftover Crack or Body Count, anything that's too fast and loud for it's own good.
Best place to study in McKinley?
On the rooftop and anybody who says otherwise is lying to you.
Best SOC Professor?
This is a question that is designed to get me in trouble. I don't like to pick favorites, but some that have made a big difference for me are Jane Hall, Roger Streitmatter, Lynne Perri and Charles Lewis.