Communications
Students' Startup Delivers News2Share
Rising American University School of Communication (AU SOC) seniors Trey Yingst and Ford Fischer have accomplished things most undergraduates only dream about. Not only do they contribute to national and international coverage on major networks including BBC, NBC, and ABC, but the two have also launched a startup media company, News2Share, that is fueled by a dynamic relationship between journalists and the public that yields quality reporting with strong audience engagement and offers a new business model for the industry. The News2Share YouTube channel has over 3.5 million views and more than 4,000 subscribers only 18 months after its launch.
Yingst had never been attracted to the stand up style of reporting he saw on the major networks. The broadcast journalism major and international relations minor grew up traveling the world, and was drawn to the dramatic events and human suffering that he witnessed. Much of what he saw in his travels never made it on to the news. Yingst had also noticed that people in the U.S. don't care about the news - but he thinks they should.
He's already made a name for himself as a contributor to BBC, ABC, NBC and CTV covering national and international hotspots like Ferguson, Baltimore, Gaza, Uganda and Ukraine. Yingst is also a credentialed Capitol Hill reporter; he also covers the White House on day pass credentials. He's been the subject of articles in Poynter and The Independent.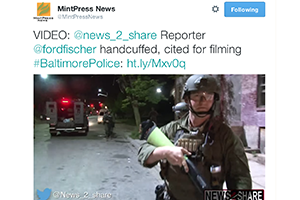 Fischer, a film and media arts major with minors in business administration and computer science, came to AU with a background in broadcast journalism. He started at his local cable station, BCATV, in his sophomore year of high school covering local politics, dabbling in sports reporting and producing two original shows.
Fischer shared Yingst's disappointment with the state of broadcast journalism and citizen engagement in the news. "A weakness I see in today's media is that stories tend to lack the 'human element.' At News2Share, we strive to be objective, but at the same time we want to show people the real impact of the stories around them."

A News Model Based on Engagement
In addition to original reports by its journalists, News2Share accepts submissions of videos and photos from independent journalists or bystanders with a front row view of major news events.

Anyone can submit footage through the News2Share website, but everything is vetted before use. The team is always cognizant of the fact that if it relies too much on submissions, it risks missing the full story. This puts the onus on News2Share to seek out alternative views and conduct thorough research, a responsibility it takes seriously.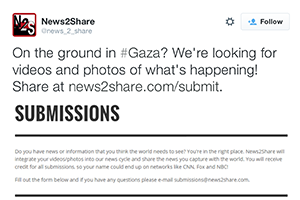 By integrating footage and reports from people on the ground, News2Share has developed a cycle where the "audience" is also an active participant in the news gathering process. Fischer says, "Between Trey's and my work and the public's submissions, we hoped to push the news cycle in a more user-driven direction."
The model gives News2Share eyes on the ground in areas where there are not a lot of reporters, but there are a lot of people and conflict. This provides News2Share a much longer reach than it could otherwise afford, and more importantly to Fischer and Yingst, it gives news consumers a reason to watch, read, and engage. Safety concerns, too, limit the scope of what can be covered, and it can be nearly impossible to quickly deploy a correspondent to a hot spot that is off the grid.  
"Our submissions feature serves as an opportunity to democratize the news, where users can submit the stories they want reported on," says Fischer.
Margot Susca, SOC director of Interactive Journalism MA and someone Yingst lists as a mentor, says, "The demand for content is stronger than ever thanks to the Internet and social media platforms like Twitter, Instagram and Facebook. I think Trey and Ford have captured that demand with News2Share."

Students or Journalists?
"I've gotten job offers from Emmy Award winning networks," says Yingst. "I think that we're in a unique position."
He lists among his mentors and biggest supporters communication faculty, including AU SOC Journalist in Residence Bill Gentile, Susca and professor Scott Talan.
"When (Ford and I) end up on international news sites talking about our reporting, while we're in college, we're really happy that SOC is also getting recognition, because without those mentors, I don't think we'd be where we are. Because I'm a college student and I'm a journalist; I am still learning. Having those professors who are able to mentor and (let you) bounce ideas off of them — it's really valuable," says Yingst.
SOC faculty members are thrilled to have students who are both ambitious and passionate about the news.
"When he took Reporting with me in Fall 2014, News2Share already was off the ground," says Susca. "Trey had covered by that time events in Ukraine, Gaza and Ferguson. I can't overstate that reporters may wait a lifetime to cover events and news in just one of those locations and here was a first-semester junior coming in to Reporting with those events already on his resume."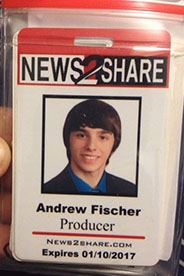 Gentile says, "We SOC instructors refer to our shared venues with students as 'laboratories' as much as we refer to them as 'classrooms.' In these venues, we provide the tools, the guidance and the encouragement, in the hope that students will bring the intellectual curiosity, the critical thinking, the courage to experiment, to challenge, and to contribute."
"In this context, Trey and Ford embody the ideals upon which SOC is built. They are talented, driven, entrepreneurial and fearless. Instead of bending under the weight of the status quo, they not only challenge that status quo but also offer an alternative to it."
Fischer says, "SOC really gave both of us the foundation of our success in media, while other schools at AU have provided us with the skills we need to succeed in all aspects of our business."
Since the Poynter article came out, high school and college students have been reaching out to Yingst on LinkedIn, asking how he's been able to do all of this while still in school. "American University put me in a unique position where I am in placed Washington DC, the news center of the country and really the world.  A unique position to be both a student and a journalist," says Yingst.