Communications
Passion & Politics: A Q&A with Molly O'Rourke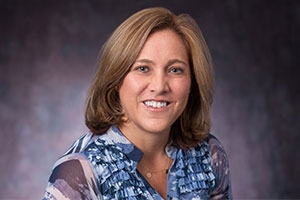 Molly O'Rourke is the new co-director of American University's Political Communication MA program, a joint degree offered through the School of Communication and School of Public Affairs. 
O'Rourke will share her insights on voter turnout for the 2014 midterms at the October 28 SOC Faculty Research and Project Forum. She will be discussing research around "drop off" voters and the results, challenging some of the conventional wisdom that has long governed voter turnout operations by both parties.

SOC graduate student Domanique Jordan had the opportunity to talk to O'Rourke about her background and the importance of "non-traditional" voters. 
DJ: After 15 years of experience in the field of public opinion research, what brings you to AU School of Communication?
MO: I've always enjoyed teaching and mentoring college students and have been fortunate to be able to do some guest lecturing and serve at an Adjunct (at Johns Hopkins University). Dotty Lynch, my predecessor, invited me to guest lecture for one of her courses and I really enjoyed the students and was impressed by the curriculum of the MA in Political Communication program. I was honored to come to AU.
DJ: Both your undergraduate and graduate degrees are in Political Science, what drives your interest in politics? 
MO: I've loved politics for as long as I can remember. Even when I was in elementary school, I used to watch Meet the Press instead of cartoons on Sunday mornings. Politics is a mix of public policy, psychology and (particularly when it comes to campaigns) marketing. Our politics and our policies are an expression of our values and priorities and I can't think of anything more important.
DJ: As the new co-director of the MA Political Communication program, what do you hope to bring to the students in the program?
MO: While I definitely hope I can teach the students in the program about communication and public opinion research, I really hope that I can also encourage them and inspire them to pursue their interests. I've been so impressed with the students' passion and focus -- they are really committed to larger goals around policy issues like education reform and voting rights and I want to help give them the tools they need to have an impact. Of the many contributions that Dotty Lynch (my predecessor) made to the program, I think the level of personal investment and engagement she had with her students is an incredible legacy. 
DJ: In your opinion, what draws students to this program? 
MO: Students are eager to affect change and, to their credit, they want to do that in a more sophisticated and meaningful way. Understanding how to advance an issue or a cause or a campaign is a valuable skill and is personally rewarding.
DJ: Your faculty research and project forum title is Turnout: The Scramble to Election Day. How important is it for young adults to vote not only during presidential elections but midterm elections as well?
MO: For so many reasons, the turnout of young voters has enormous implications. Not only do their votes make the difference in determining the outcome of close races, but their participation and their voice changes the focus and the tone of what is being debated and prioritized during elections. I used to do work for Rock the Vote and that was one of my favorite projects because the mission is so important.
DJ: In both the 2008 and 2012 presidential elections,, there was a surge of "non-traditional" voters that changed the structure of the American electorate. Can you define what a "non-traditional" voter is and what the significance is? 
MO: I think of "non-traditional" voters as those who are more likely to have sporadic or inconsistent vote history. They're voters who are not habitually going to turn out. They may not have much information about politics, they may be very mobile and don't have an established voting routine, they may be feel disaffected because we haven't done a very good job making politics and campaigns relevant to things they're struggling with and concerned about. 
DJ: What do you hope students take away from the Forum? 
MO: I want students to see how campaigns have learned from social science about effectively communicating with certain groups of voters, in this case "drop off" voters. One of the many ways in which campaigns have changed in recent years is that there is a lot more emphasis on measuring and demonstrating what works and what doesn't. So "best practices" get established and need to be constantly updated. It's not like it used to be when most voter turnout programs were based on campaign lore—there is a real role for good social science research now.