Communications
Advocacy Journalism Conference Sparks Debate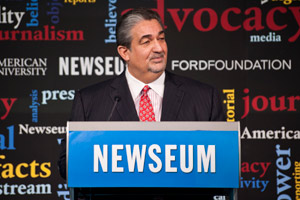 Tuesday's Advocacy Journalism in the Digital Age conference at the Newseum explored the rise in advocacy journalism in mass communication. Hosted by the Newseum in association with the American University School of Communication and the Ford Foundation, the event brought together thought leaders in social activism, public policy and journalism to help define the opportunities and challenges created by new digital technologies. 
The Newseum's Paul Sparrow, Sonya Gavankar and Andrea Shepherd served as the producers of the event, working closely with a team at SOC led by Caty Borum Chattoo to shape the panels and the day's discussions.
In his opening speech, SOC Dean Larry Kirkman argued that advocacy journalism fills a void. "What can replace the cut backs in investigative reporting, the cut backs in explanatory reporting, the cut backs in global reporting? Advocacy journalism can speak up and talk back to the powers that be – whether defending human rights abroad and civil liberties at home, supporting the struggles of the poor to improve their lives, explaining climate change or denying a call to war."
In addition to the 250 people packed into the Newseum's Knight Conference Center, close to 600 people watched the conference via webcast on newseum.org, and 335 people discussed and debated the topics raised by panelists in over 1,200 Tweets.

The panelists represented many points along the spectrum of advocacy journalism, representing advocacy, traditional journalism, investigative journalism and new digital players.
Based on a seven year partnership with the Newseum, Paul Sparrow, senior vice president for broadcasting, approached SOC last fall to discuss plans for the conference which was funded by a Ford Foundation grant to the Newseum. Public Communication professor and panel moderator Caty Borum Chattoo played a major role in shaping the conference, reflecting her experience in media advocacy, social justice media campaigns and documentary filmmaking, including Wal-Mart: The High Cost of Low Price, and The Sierra Club Chronicles. Her panel sought to help explain where advocacy journalism fits in the media landscape.
AU junior Sylvia Carignan appreciated the chance to delve into the subject. "I came away from the conference knowing a lot more about what defines advocacy journalism and how it's really starting to proliferate. [It] isn't always a popular academic topic, but it's important to stay informed about this kind of journalism and how it's using new social technologies."
Keynote speaker Ted Leonsis sparked debate on- and off-line when he said "Everyone is a journalist now." A former AOL top executive, Leonsis is the founder, chairman and majority owner of Monumental Sports & Entertainment, which comprises three professional sports teams - the Washington Capitals (NHL), the Washington Wizards (NBA) and the Washington Mystics (WNBA) - as well as Verizon Center. He discussed his love of social media and the creation of SnagFilms, a website where visitors can watch award-winning documentary movies for free, and then "donate pixels" by opening a virtual movie theater on their own webpage, blog, Facebook or MySpace page. He developed the site after learning that only 500 screens of the 30,000 in US show documentaries. "Individuals will become their own media companies," he predicted.
Journalism professor Chuck Lewis, executive editor of SOC's Investigative Reporting Workshop, moderated the last panel of the day on how advocacy journalists can build trust and credibility. Trust is an issue Lewis is familiar with, having left CBS' 60-Minutes to found and direct the Center for Public Integrity, producing hundreds of investigative reports in fifteen years before coming to American University. The topic fostered rigorous debate among the panelists, including NPR ombudsman and former SOC professor Alicia Shepherd, and the audience.
Distinguished Journalist-in-Residence Nick Clooney, a news veteran of more than 50 years, has become an advocate to stop the genocide in Darfur, working alongside son George Clooney. As part of Lewis' panel, he detailed his evolution from "anti-advocacy" to advocate.
Lewis' panel ended on a high note, when SOC professor David Johnson cited the new ability for "Democracy to talk back to us" as an exciting development. "Is this not the true golden age of journalism that we live in today?" he asked. That sentiment was cheered by many in the conference room and on Twitter. 
In a breakout session following the panels, Jessica Clark, director of the Future of Public Media Project in SOC's Center for Social Media and former executive editor of In These Times, advised participants on training journalists for the present and future. Her recent book on progressive media and the future of journalism, Beyond the Echo Chamber, focuses on the new media outlets for journalism and political commentary. 
Attendee Roshani Kothari, Program Manager at the International Women's Media Foundation (IWMF) was glad she came. "The conference was thought provoking and well organized. It helped to showcase innovative media initiatives, and inspired me to think of creative ways to use social media, mobile and other technologies to engage people to get involved with issues they care about."