Research
Thesis Details How to Rebuild Public Trust in Government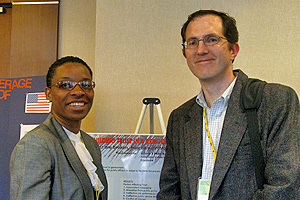 In April, Arliene T. Penn, SOC/MA '10, presented her master's thesis, "Rebuilding Public Trust in a Democratic Government: When Bonds of Trust are Broken, How Do We Restore Public Confidence", at the 102nd Annual Eastern Communication Convention in Arlington, Va. 
Public Communication division director Lenny Steinhorn said "It's thoroughly characteristic of Penn not only to produce a work of consequential scholarship but to do it on a topic so central to democratic society."
"It is always good when your work can do the talking", says Penn. "I believe that one's work should be personally and professionally meaningful and it should add value, whether directly or indirectly, to help facilitate transitional and transformational societal change which is the core purpose of my thesis."
The thesis includes a behavioral study of what constitutes public trust, what affects public trust in government and strategies to rebuild trust. It also includes an in-depth analysis of the local, regional and international governments through the lens of case studies, surveys, media reports and personal interviews. 
In devising several trust-building strategies, Penn worked closely with former White House speechwriters, non-profit and for-profit campaign strategists, crisis communication strategists, reputation management and image repair strategists, journalists and public relations professionals. 
Penn's work is a how-to document focusing on how persons in key leadership positions throughout government can leverage strong reputations to create positive results through messaging, communication strategies, and public engagement preparation.
"We need more strategic thinkers like Arliene, scholars and professionals willing to take on big topics with real significance," says Steinhorn. "That was what distinguished Arliene at American University during her graduate studies in SOC – a dedication to knowledge, a determination to have impact, a drive to communicate and educate."
He added, "Accomplished graduates such as Penn reflect both the rigor of the school and the type of talented communicators who attend the institution to study."
While studying at AU, Penn worked as graduate/research assistant to Steinhorn.
Professor Joseph Graf surprised Penn with his visit to the convention. Graf, who worked closely with Penn on the project, said the work is more practical than theory.
"Arliene really made her mark at AU. Her project is aimed at improving trust between the British Virgin Islands Government and its citizens. I look forward to seeing this proposal put into action," he said.
Penn will continue to work with the SOC network as she continues to revise the document's strategies so they remain consistent with the communication trends being reshaped by globalization and technology.