Communications
Stogner Puts a New Lens on the Past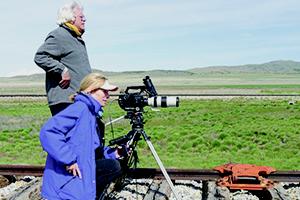 With over 25 years of filmmaking experience, American University School of Communication (AU SOC) professor Maggie Burnette Stogner has created visual, audio, and animation elements for the Smithsonian, National Geographic, and LucasFilm. She will share her experience with and passion for translating history for a millennial audience at the SOC Faculty Research & Project Forum Tuesday, December 1, 2015.

The Faculty Forum is a monthly lecture series highlighting high-impact work produced by SOC faculty who are at the forefront of great communication problems and ideas of our time.
Stogner's work centers on the art of crafting historical narratives and creating visual legacies using film, photography, and innovative media. 
Recent large traveling exhibitions to benefit from Stogner's innovation include "The Ancient Greeks: Agamemnon to Alexander the Great" and "Indiana Jones and the Adventure of Archaeology" which is currently at the National Geographic museum in Washington, D.C. 
Graduate student Devan Kaney was able to speak with Professor Stogner about her latest exhibitions. 
DK: What are the biggest challenges that come with using new media as tools to represent the past? 
MS: There are several big challenges as we journey through this technology-driven transition in how we communicate our human history. The learning curve is very steep right now and the rate of change is accelerating. Just ten years ago, only 20% of adults in the U.S. were on the internet and smartphones were still a novelty. Today, nearly 90% of adults use the internet and smart phones are ubiquitous. That's a meteoric shift. When you push the front edge of using new tools, it involves taking risks. It's great fun to experiment with new techniques, but at the end of the day, what I create has to be reliable. It has to work.
We are still in the novice stage of understanding how these new tools and techniques engage audiences. How do they change or evolve the psychology of connecting with the past? How do they help achieve a balance of education and entertainment, of information and inspiration? Fortunately, these same technologies enable a lot of sharing of information and collaboration.
The biggest creative challenge is distilling thousands of years of history into a visual narrative that resonates with an audience in a very short time span. I think of my work as the haiku of filmmaking.
Q: What is your creative process – how do you begin to bring a past world to life? 
MS: Creating films and immersive media for exhibitions are highly collaborative – there are teams of designers, curators, and specialists of all kinds. My process starts with the early design phase. Integrating the media into the exhibition so that it works hand-in-hand with the stories told by the artifacts is key to engaging audiences.
Fortunately, I love to research so I read and absorb as much as I can about the people, the lifestyle, key events. I want to see, hear and feel their world, so I can create a sense of "being there" through the media elements I produce.
My first step always is to look for faces. I search the artifacts, frescoes, mosaics, whatever is available for visual representations of the people. They provide a window into the soul of the past.
Q: Your latest exhibition, "The Greeks: Agamemnon to Alexander the Great," is the largest exhibition on the ancient Greeks in North America in the past 25 years. What went into planning and executing that project? 
MS: This exhibition was in development for several years and includes 21 Greek museums and four museums in North America. It displays 500 artifacts that span over 5,000 years of ancient Greece, most never seen before in North America. It has been in Canada this past year – the Canadian Museum of History in Ottawa was the lead museum – and is about to open at the Field Museum in Chicago and will come to the National Geographic Museum in summer 2016.
My role is to create the immersive visual context that draws visitors into the stories of the artifacts. I produced and directed seven large-screen videos, animations, short documentaries and an original music score. It wouldn't have been possible without my extremely talented team and an excellent collaboration with the museum professionals.
Q: What are some of your favorite elements from that exhibit? 
MS: The large-screen contextual videos offer a new approach to enhancing the exhibit artifacts. These visual collages bring alive the life and lifestyle of the time, using imagery from the objects and the time period. We see how people at that time represented themselves, but we use very modern techniques to animate their depictions. It's the most artistic and innovative work I have ever done.
Q: You worked on the "Indiana Jones" exhibition, "Indiana Jones and the Adventure of Archaeology," that is currently at the National Geographic Museum in D.C.  What went into turning a fictional pop culture phenomenon into a factual exhibit on archaeology? 
MS: I love this exhibit! It provides a really fun look at the making of the "Indiana Jones" films and engages visitors in real field archaeology. It's a perfect mix of entertainment and education. A tremendous amount of research and discussion went into deciding which four areas of real archaeology we would highlight. We wanted to play off the scenes in the movie, but also provide exciting examples that offered something new. In the end, we decided on a new discovery in Panama, a rare speaker of ancient Mayan, a new theory on the demise of Angkor Watt, and the ever-mysterious Nazca lines in Peru. Working with Harrison Ford was definitely an inspiration.
Q: Lastly, what is the best piece of advice you give to students aspiring to work in your field? 
MS: Be curious. Read. Explore. I'm passionate about the history of human culture. That came first. The filmmaking skills evolved around that passion – and they continue to evolve. Getting comfortable with being out of your comfort zone is essential.