Television & Film
Lifetime Brings AU's Krasnow to TV Audiences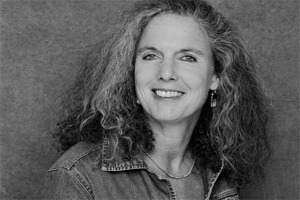 Iris Krasnow is a Renaissance woman. Best selling author, speaker, wife and mother of four sons – not to mention an American University journalism professor. She is now working with Lifetime television to produce a pilot inspired by her fifth book, The Secret Lives of Wives: Women Share What It Really Takes To Stay Married. Based on 200 interviews with longtime wives and two years of marriage research, her book portrays solutions and strategies for women on how to stay committed for the long haul.
The Lifetime pilot has attracted some star power. Salli Richardson (Criminal Minds, Eureka), Kim Raver (Grey's Anatomy), Amber Clayton (Three Rivers) and Lauren Bittner (Paranormal Activity 3) have signed on to lead in the Lifetime series cast. Krasnow is just back from the filming of the pilot in Austin, Texas where she reports "these Hollywood stars are real people with lots of amazing talent."
Krasnow is also the moderator of the new AU SPExs program, American Women: Conversations with AU's Inspirational Women, which showcases accomplished AU women and their stories of success. Monday, Nov. 5, Caleen Jennings, a professor in AU's Department of Performing Arts, will stage a full on performance at Katzen using AU actors depicting the power and history and social activism of Black Theatre in America! And the following week, SPExs hosts University Professor and Center for Social Media Director Pat Aufderheide; SOC Executive-in-Residence Dotty Lynch is a featured guest in early December.
Since beginning her career more than three decades ago, Krasnow has been a pioneer in the world of journalism. She got her start in her hometown writing for the Chicago Tribune then became the fashion writer for the Dallas Times Herald. She moved to Washington in the 1980s to join United Press International as their national feature writer. This led to a successful string of books, titles you can find on iriskrasnow.com such as I Am My Mother's Daughter and the New York Times-bestseller Surrendering to Marriage
Her success as a best-selling author is often attributed to her unadulterated exploration of women's lives, as she chronicles - and experiences - marriage, motherhood and the challenges of family relationships. She has published five books and is working on her sixth, this one on aging and sexuality to be published by Penguin. Being a guest on Oprah twice has also helped her launch.
"Some might argue that print journalism is a dying art," said Krasnow, who became a full-time professor directing Washington Journalism Semester in 1994. "I say it's a changing art. My students still get very excited about seeing their names in print. It is very much alive and I am a living testament."
Krasnow attributes her success to hard work and passion, something she drills into her students. She has also taught the SOC course Feature Article Writing for many years.
"Where there is passion, there is persistence. And if you work hard at something you love, over the course of many years, success is sure to follow. At the beginning of each semester I tell my students: "The most important thing you can do in college is to find something you are passionate about.
"My father's favorite saying was ' the harder you work the luckier you will get'." And I am sure he was right.
Krasnow says she "wants to grow old at AU", her home for many years, and a place where she says gave her the inspiration and freedom to launch a career as an author, and now a TV producer, and to teach "hundreds and hundreds of warm and wise students".  Her son Jackson starts as an AU Freshman next year.
"I have a lot more books in me," said Krasnow."And as American University grows in different directions, it is exciting to flex and grow as a professor."