Filming the Amazon on an iPhone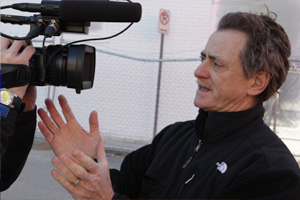 American University Professor and Journalist in Residence Bill Gentile shot and produced "When the Forest Weeps" while on assignment in the Ecuadorian Amazon for AU's Center for Latin American and Latino Studies (CLALS).  The project was funded by CLALS's grant from the Henry Luce Foundation on "Religion and International Affairs."
"When the Forest Weeps" examines how Ecuador's Kichwa Indians struggle as their deep spiritual relationship with the Amazonian rain forest diminishes in a clash with the forces of "modernity."
"I did it all with an iPhone 6+," Gentile said. "I think this is a measure of how technology has enabled us to do things that I couldn't even dream of doing just a few years ago. "
Gentile spent three weeks shooting the film on the FilmicPro application. He acted as producer, cameraman, soundman, correspondent, writer, and narrator.
"The methodology that I employed in the Amazon, which I refer to as 'backpack journalism,' or 'backpack documentary,' is what I teach at the School of Communication."
Gentile brings 30 years of field experience to AU. He teaches Photojournalism, Foreign Correspondence, and Backpack Documentary. 
A Spanish-language version of the film is also available with a Spanish interview and related material on Univision's website.