Alumni
Alum Bets Big on Local News Site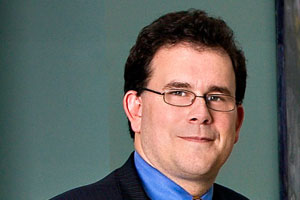 After an impressive run as the executive editor at washingtonpost.com, Jim Brady, SOC/BA '89, is embarking on a new venture with Allbritton Communications, the company that owns Politico. His mission is to develop a local Washington, D.C. news site leveraging online content now fielded by Allbritton's television stations, WJLA-TV (Channel 7) and its cable sibling, NewsChannel 8.
Several factors in this new job appealed to Brady. He says that being on the digital side is where his heart is, and after being in the business for 24 years, he wanted to do something that will lay a path for other people building businesses around journalism.  
Brady told paidContent that he wants the site to be replicable, digital and web-only focused. He estimates that he'll need a staff of 50, mostly reporters and editors as well as videographers. "The concept is, to win big, you have to bet big. To build a business, you have to build an audience," said Brady. "And to build an audience, you have to have enough interesting content features. You can't take 10 people and create a local site as a business."  
His plan is to replicate the web-first Politico culture, by creating a local site with a heavy component of social media and user-generation. "The future of media is a collaborative future, with a need for content produced by both professionals and citizens, said Brady. "The reshaping of the economics of media mean that the days of newsrooms of hundreds of people are probably over and that, to truly cover a region, you need to combine forces."  
To surface information that's relevant to people in a community, Brady said they would look at people from that community who are producing interesting content as well as mixing original and aggregated reporting.  
Brady acknowledged that as with any start-up, it will take time to turn a profit, as the project goes up against The Washington Post, The Washington Times and Washington Examiner but thinks he will be competitive. "I believe there's room in the city for a web-first publication that covers the issues that matter to people daily lives in Washington," he said. "Being focused on the Web gives you a real chance to focus on tools like social media, multimedia storytelling, database journalism, mobile applications, etc. so I think we'll be nimble and experimental, and with the world changing so quickly, that's a huge advantage."  
Taking on another new challenge, Brady is returning to his alma mater in Spring 2009 as an adjunct professor to teach a seminar in journalism, which he said, should be fun. "I've been back to speak at a number of classes, but never expected to actually come back and teach there. There are a lot of professors I had at AU who would be more surprised by this than even I am."