Achievements
First-Year Grad Student Using Film to Promote Environmental Change
By Rosemary D'Amour
December 28, 2010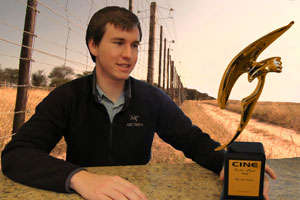 MFA candidate Brian Kelley has just completed his first semester of the Film and Electronic Media program at SOC, but already he's making waves for his work to promote conservation and environmental issues.
"Environmental topics are so huge right now, and they're only going to get more so in the next twenty years," Kelley said. "Film is going to play a huge role in portraying these issues." 
Kelley has won critical acclaim for his work as an undergraduate at Gettysburg College, where he graduated in May 2010. His documentary, "On the Fence," which he made while studying abroad in Botswana, won the 2010 CINE Golden Eagle Award for student documentary. "On the Fence" examines the eco-tourist site Meno akewena, where a 480-kilometer fence was built to divide the villagers from the wildlife in Botswana's national park. 

"The title 'On the Fence' is both literal and psychological — a lot of it is a barrier that people construct for themselves," Kelley said. "It was good to see people's responses to it, but the goal is ultimately to get people who wouldn't usually be interested, or usually see these things, to take an interest." 

Kelley, whose bachelor's degree is in Environmental Studies, decided to come to AU not only because of the opportunities in Washington, but also because of the environmental filmmaking program. He has taken full advantage of the resources AU and Washington have, including interning this fall at the National Geographic Channel, working in the CritterCam department helping edit raw footage of animals and researchers for their shows. 

"It's interesting to go from a student perspective to, at the end of the day, having a product that goes out," he said. 

Kelley said that film can be used to help portray and develop understanding of environmental problems, but that examining the complexity of these issues is both challenging and rewarding.

"Environmental topics are social, political, sometimes even religious," Kelley said. "Understanding those details is important in the filmmaking process." 

Professor Chris Palmer, distinguished filmmaker-in-residence and founder of SOC's Center for Environmental Filmmaking, said filmmakers like Kelley can make a difference.
"Film is a powerful medium to achieve social change, and having someone like Brian, who is motivated and already so accomplished, involved in our program is really tantamount to what we're trying to do here," Palmer said. "He is just the kind of bright, hard-working person that we want."