Television & Film
Controversial Film Highlights Immigration Debate
By Rosemary D'Amour
February 10, 2011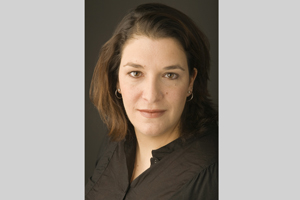 A new documentary by SOC professor Carolyn Brown will premiere on PBS stations this spring. On the Line examines issues of immigration and border control.
Brown's film, which she calls "extremely controversial," was picked up for distribution by NETA, the National Educational Telecommunications Association, and will air on PBS nationwide.
Brown said that the film provides a unique perspective on the immigration issue. While the film focuses on two divergent viewpoints—illegal immigrants who cross the border from Mexico into Arizona, and the Minutemen Civil Defense Corps, a militia border-control group, there is a third aspect which reaches her personally.
"This film examines three areas of immigration that I've not seen explored together," she said. "It looks at the anti-immigration militia movement, the experience of undocumented immigrants, and the complex issues of identity that many multi-ethnic Latino Americans, like myself, struggle with."
Although undocumented immigration has gone down in the past five years, according to the Department of Homeland Security and the Pew Hispanic Center, the immigration debate is no less heated in Arizona.
"People will probably have a visceral reaction to this," she said. "This film shows a part of Arizona that people don't like, but it shows the political climate."
Arizona's heated political climate has been the subject of several news stories in recent years, and the number has ballooned since the shooting of Congresswoman Gabrielle Giffords in January. Although the immigration debate won't be resolved by her documentary, Brown said she hopes it will offer insight into the motivations of the people involved.
"I see myself not as someone to offer solutions for something, but to get people talking," Brown said. "Hopefully people will watch it and better understand not only people who are crossing the border, but also militia groups."