Government & Politics
Lights, Camera, Politics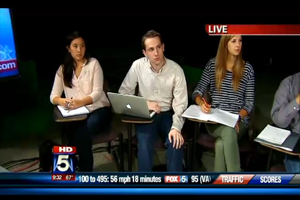 Campaign U, Inside the War Room and the Newsroom, taught by School of Communication Professor Leonard Steinhorn, gives American University students the opportunity to learn, think, and analyze the history and culture behind the upcoming election while being exposed to the public eye through DC's Fox 5 WTTG. A fitting course for AU, home to the most politically active students in the country, according to Princeton Review.

A key component of Campaign U is the partnership Steinhorn has developed with DC's Fox 5 and Fox 5 Morning News anchor, Wisdom Martin. By being on set with students each week, Martin is able to understand and capture the voice of a new generation and the issues they feel passionate about. The segments with Martin are featured on Fox 5, on both the morning and evening news segments.
Students, meanwhile, are learning about campaign communication while doing on-the-spot election analysis for a major network affiliate. "Campaign U is excellent training for the students participating," said Leonard Steinhorn, Public Communication Professor. "Students get a chance to be exposed to a reporter and the public eye, where they can take what they are learning in class and communicate it effectively."
Students meet twice a week, first in a typical classroom setting, where they discuss in detail trending topics surrounding the election and develop the skills to critically think about the issues presented in the campaign.
"This is a campaign that demands true analysis and critical thinking," said Professor Steinhorn. "Students should be prepared for each class session to discuss and analyze topics without succumbing to partisanship."
The class has access to unfiltered information from a variety of sources including campaign speeches, ads, social media and news coverage that it can use to craft arguments about the strength of the campaigns or efficacy of specific messages. Student Even Brown appreciates digesting it as part of a group. "There's so much information out there that it's hard for one person to process all of it, so that's one of the advantages of this class. We can all do our part and teach each other," he says.

Students then transition from the classroom to the studio, in SOC's Media Production Center. Professor Steinhorn recaps recent campaign events and shows clips of political ads, media coverage, speeches and related events and moderates the students in a discussion using the skills developed in class, but now with a rolling camera and a live audience. Thanks to Fox 5 and social media such as Twitter and Facebook, Campaign U students' voices resonate beyond campus.

Throughout the class, Martin hosts short segments to ask students politically charged questions, which are taped for broadcast. The entire two hour class is filmed, edited and streamed live to the SOC and Fox 5 Campaign U website by a production crew of AU staff and students. The media element is crucial in the learning process for the students because it gives them a chance to demonstrate their knowledge under pressure – and on camera.
Campaign U allows students an avenue of opportunity to express their opinions and insights on the upcoming election to their fellow peers and the public. As a student, Brown says the class has been eye-opening. "There are so many moving parts and so many subplots that it's fascinating to watch the campaigns handle them all at once and keep going."