Journalism
Student's Passion Drives Storytelling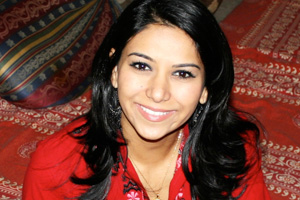 SOC MA journalism student Aisha Chowdhry has found her true calling. The Pakistani native recently finished a documentary that focuses on terrorism in Pakistan and how ordinary Pakistanis deal with it on a day-to-day basis. When the documentary screened at D.C.'s Busboys and Poets, it packed a full house of over 100 people.  
The audience was impressed. 
Fellow American University School of Communication student Katie Coughlin says Chowdhry's documentary was refreshing. "It was nice to see another side of Pakistan, a side, I personally have never seen before - the fashion and the education."  
"It evokes the emotion of the people directly and indirectly affected by the current state of terrorism in the region and humanizes the efforts to deal with terrorists," added Matthew Boyle, another SOC student.   
Born and raised in Lahore, Pakistan, Chowdhry moved to the U.S. to pursue her undergraduate education at Indiana University of Pennsylvania, majoring in Marketing.   
"I ended up working for a Fortune 500 company in Washington, D.C., for over two years before I decided my true calling was journalism," she said.  
Storytelling was something Chowdhry was interested in and in 2009, Chowdhry came up with the idea of doing a documentary to show a different side of Pakistan.  With numerous suicide attacks in the country and hardly any positive press, she felt it was important to show the world how the average citizen feels living with terrorism on a daily basis.   
"I bought basic equipment, reconnected with old friends, bought my plane ticket and left," she said.   
The film has attracted international attention. Recently, Chowdhry appeared on Russia Today, to discuss the film and life in Pakistan. "I absolutely cherished the experience. I met numerous people and got to engage with the ordinary Pakistani citizens, sit down with them and hear their stories." 

"After filming the documentary, I realized even more how important journalism is, and it surely inspired me to pursue this as my career."  
Chowdhry hopes to utilize all the tools offered to her at American University to build on her experience and excel in the field of journalism.