Television & Film
Professor, Students Take on Shark Week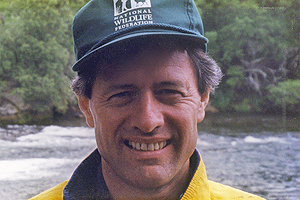 Over the course of his career, environmental filmmaker Chris Palmer has come face to face with Kodiak bears, camped with wolf packs and confronted sharks. So he was particularly qualified to write a recent op-ed for Huffington Post in which he criticizes Discovery Channel's Shark Week franchise for its focus on shocking viewers instead of educating them. 
Says Palmer, "In a time when sharks face increased threat from shark finning, overfishing, and pollution (including the devastating oil spill in the Gulf), programs that depict them as vicious, man-eating killers only make it more difficult to convince the public of the need to protect them."
The op-ed echoes arguments made in his new book, Shooting in the Wild, a behind-the-scenes account that uncovers a pervasive and troubling trend toward sensationalism, extreme risk-taking, and even abuse in wildlife films. "Some defenders of the new wave of sensationalized, graphic nature shows argue that by being more exciting, these programs draw in viewers who would otherwise never be interested in nature. Creating interest in wildlife and the environment is a worthy accomplishment, but relying on graphic violence is taking the easy way out," Palmer argues.

As director of American University's Center for Environmental Filmmaking, Palmer is helping to develop a new generation of filmmakers that is as passionate about animal conservation and as concerned about the ethics of filmmaking as he is. One of those students, Peter Kimball, authored the op-ed with Palmer.
In the piece, the duo commend recent efforts to increase the educational and activist opportunities afforded by the highly-rated programs, but say more needs to be done. "We applaud Discovery Channel's partnership with Senator John Kerry to help end shark finning, but the general effect of the graphic Shark Week programming is not to promote conservation but to instill fear, terror, and hatred in the viewer."
Another student, Center Scholar Shanon Sparks is doing compelling, professional work in this area for her thesis project. Says Sparks, "The shark is probably the single most important species in marine ecosystems. Unfortunately it is also among the most feared and hated of creatures. My thesis film highlights the less aggressive and more natural behaviors of sharks in their native environments as well as aquariums."
Sparks disagrees with the notion that graphic violence is the only way to attract an audience to nature films. "The feeding frenzy mode that so many filmmakers have relied on to get ratings has done very little to spark protections for these beleaguered animals. If we can shed light on sharks in a more compelling and accurate way, more people will get on board with protecting these highly endangered animals that are so vital to the health of our oceans."