Communications
CBS News Host Schieffer Addresses Communication Graduates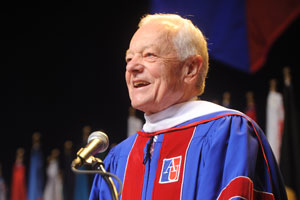 Seven-time Emmy winner Bob Schieffer addressed the 2011 School of Communication commencement ceremony on May 7. A Library of Congress "Living Legend", Schieffer's remarks were well-received by the graduating students, their families and friends, staff and faculty. Schieffer was introduced by American University President Neil Kerwin, who awarded him with an honorary Doctor of Humane Letters.
The Twitter tag #2011AUgrad was a worldwide trending topic for 15 minutes during Schieffer's remarks in the Bender Arena.

"To the class of 2011, that dogged group who thought this day would never come, I say, 'Congratulations. This is your day. You earned it. No one can take it away from you, so celebrate it,' " Face the Nation host Schieffer said of the School of Communication's newest alumni. Watch video

Other speeches were given by SOC Dean Larry Kirkman and two student speakers, Ted Roach, MFA '11 and Shanika Yapa, BA '11.
Bachelor's degree recipient Alex Priest was presented with both the prestigious President's Award and the Bruce Hughes Award. Kathryn Baxter received the Cathryn Seckler-Hudson Award and Amy Chin was awarded the Harold Johnson Award.
In his remarks, Kirkman underscored SOC's philosophy and commitment to both academic and professional excellence. "We say we are a community of learners and a community of practice. The success of our centers and the Social Learning Summit brings life to these slogans. You have come to appreciate what it means to be supported in a community where there is genuine reciprocity, where people listen to and learn from each other. "
The two student speakers also spoke to the sense of community at SOC.
Yapa reflected, " In the globalized world we live in today, with peaceful revolutions being motivated through Facebook, and history being shared as it happens through Twitter – we were taught to share the stories that need to be heard – and equipped with the skills to share them so that they are heard and not drowned in the multitude of stories floating around on the internet." Watch video

Roach, who was selected for the highly competitive Award for Outstanding Scholarship at the Graduate Level, spoke passionately about the value of some of the classes he'd taken while at AU, and the way faculty members Chris Palmer and Bill Gentile had leveraged their own professional connections to provide him with job opportunities. He also said what drew him to SOC in the first place. "Not only are AU professors teaching, but they also work constantly in their fields. This creates "real world" contacts for their students, and they actively encourage and facilitate professional experiences out in the field." Watch video

Immediately following the event, SOC graduates and their guests attended a reception where they shared memories and began their networking.