Communications
Student Builds Network
at Facebook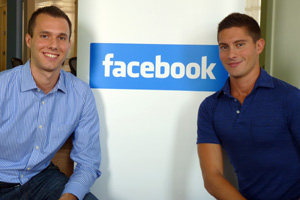 Facebook is all about making connections. For American University graduate student Ferenc Koszorus, one key connection came in the form of an internship with AU alum Andrew Noyes, SOC/BA '02 MA '03.

Koszorus, who's in the interdepartmental International Media program at AU's School of Communication/School of International Service, said this opportunity has been the most fulfilling internship he's ever had. "I've been able to get into so many interesting projects," he said. "I came in with high expectations, but I didn't expect to have the responsibilities that I was given. It's truly felt like much more than an internship. It's really felt like a job, and it's been great because of that." 

While at Facebook, Koszorus worked on projects including gathering all news relating to Facebook, updating official D.C. government pages, working with CNN and Larry King on the Gulf Coast telethon (in partnership with Facebook), and attending hearings on Capitol Hill. He'll be continuing the internship through the fall semester.  
Noyes said when he began his search for an intern for Facebook's DC office, the first people he emailed were his former professors and friends at SOC. "It has been my experience at Facebook and in previous jobs that AU students are among the hardest working, ambitious and attentive out there," he said.

Both Koszorus and Noyes said they use skills they developed at SOC every day.  
"The real world experience that my professors brought to the classroom prepared me for what to expect in the field and my internships in PR and journalism were invaluable," said Noyes. "Exercises in interviewing, public speaking, organizational management and crisis communications have been particularly helpful throughout my career."  
"I gained so many valuable skills and so much knowledge from SOC," said Kozorus.  
"I think SOC really has done a tremendous job in hiring professors," he said. "They are the best of the best." 

Noyes is the manager for public policy communications at Facebook in Washington, D.C. He joined the company last fall, coming from a reporting job covering Capitol Hill. Noyes said he never thought he'd have a more rewarding or demanding job than serving as a member of the Washington press corps, covering Congress, the White House and government agencies - until he came to Facebook.

"Soon after joining Facebook, I realized that the professional life I had experienced was a cakewalk by comparison," he said. "Facebook is among the most prominent brands in the world, and as such, is under a microscope daily."  
Noyes said every move they make is reported by the media, dissected by industry analysts, and is increasingly of interest to lawmakers and regulators across the globe. This keeps their small but growing public policy and communications team busy around the clock. 
"I've learned not to turn my iPhone off or stop checking email, even on weekends or in the middle of the night." He says that despite the pressures, "it has been the most challenging and enjoyable experience of my career and I can't wait to see what happens next."