Communications
Earning Bylines and Building Networks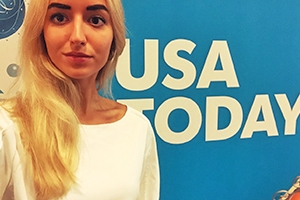 This semester American University senior Alexandra Korba has already published an article about Tom Hardy, reviewed films and books, and interviewed celebrities. 
Korba is a Dean's Intern for USA Today Entertainment. She has a double major in film and international relations and says she is overwhelmed by the opportunity to intern with USA Today. 
"I've done various film and TV-centric internships before but never anything news- based, though it's always been high on my internship bucket list. Naturally, I was beyond stoked when the Entertainment section reached out to me to work with them. It's been a perfect fit: I get to harness all my television/film/celebrity geekiness and translate it into articles that actually get published online! I have a whole page of bylines already and my portfolio is thanking me."
The Dean's Internship program pairs SOC's top students with selected partner organizations for semester-long, for-credit internships in Washington, D.C. 
The School of Communication works with nationally recognized organizations to provide Dean's Interns with real-world experience and open pathways to future jobs. 
Along with USA Today, this fall SOC students are interning with Current.org, National Geographic, and the Newseum. 
Other Dean's Internship opportunities include Discovery Communications, NBC4 Washington, NPR, Washington Post, and Smithsonian Institute. 
The Dean's Internship program at American University provides amazing opportunities for undergraduate and graduate students in the School of Communication. 
Sharon Metcalf, the Senior Director of Strategic Partnerships and Programs at SOC says the Dean's Internship is meant to give students a jumpstart on their careers after graduation. 
"Top students compete for distinguished positions with SOC's premiere partners. The recognition Dean's Interns earn through substantive work with nationally recognized brands burnishes their reputation and serves as a direct pipeline into their profession."
The Strategic Partnerships and Programs office launched the Dean's Internship program in 2011 to cultivate significant opportunities for select SOC students to earn bylines, production credits and professional recognition for their work with nationally recognized partners.
Undergraduate and graduate students may apply for Dean's Intern. Applications must include work samples, faculty referrals, and a completed application packet for the designated position. Final decisions are made by the organization in collaboration with the Dean and strategic partnership office.