On Campus
Dr. Paul Farmer Addresses Class of 2013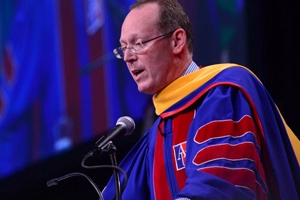 Addressing the 590 graduates of the College of Arts and Sciences at this year's commencement ceremony on May 11, Dr. Paul Farmer did what he has done his whole life: surprise and inspire people.
The surprise for many hearing the MacArthur Foundation "genius" award winner and internationally renowned public health advocate was that he avoided the traditional platitudes about graduates embarking on a new chapter in their lives. Instead, he told a "tale of two cities": Boston and Mirebalais, which is in central Haiti.
"If anyone embodies the American University ideal of active citizenship it is Paul Farmer," said Peter Starr, dean of the College of Arts and Sciences. "He has devoted his entire career to helping people in some of the poorest places in the world get the kind of health care they not only need but deserve."
Farmer is chair of the Department of Global Health and Social Medicine at Harvard Medical School. He also serves as U.N. Special Adviser to the Secretary-General on Community-based Medicine and Lessons from Haiti.
He is perhaps best known as the cofounder of Partners In Health, an international nonprofit organization whose main goals are "to bring the benefits of modern medical science to those most in need of them and to serve as an antidote to despair." He received an honorary doctor of science degree at commencement.
Tale of Two Cities
In his tale of two cities, Farmer started with Boston, home to Brigham and Women's Hospital, social where Farmer is chief of the Division of Global Health Equity. In nearby Cambridge is Harvard Medical School, where he teaches and started his medical studies 30 years ago.
In Boston, after two bombs exploded near the finish line of the city's marathon, Farmer noted, a safety net of world-class hospitals and highly trained physicians and caregivers sprang into action. Three people died and more than 260 were injured. But not a single patient who reached the hospital alive died, even though many had suffered massive trauma. Doctors began operating on the injured within half an hour of the blast.
The system worked.
Compare that with Mirebalais, one of the poorest places in the poorest country in the Western Hemisphere. That's where Farmer has chosen to live and to help the people who need his help the most.
Farmer first visited Mirebalais in 1983, after he had graduated from Duke and was about to enter Harvard Medical School. In the first few years of conducting health surveys in Haiti, he recounted, he'd lost three close fellow workers in ways that would have been unimaginable in Boston. One died of misdiagnosed cerebral malaria, another from typhoid fever complicated by an ileal perforation, and a third of sepsis caused by infection just days after giving birth to a boy. Her death could have been avoided by the kind of hygiene practiced routinely in hospitals in places like Boston.
Farmer's conclusion was a fitting charge to the Class of 2013.
"Martin Luther King was right when he told us the year before his death by martyrdom that anyone can be great because everyone can serve. All of us can serve by helping to build or support the safety nets our species needs." Not everyone can survive devastating disease or disasters, he said. "But how many survive serious illness or injury depends heavily on what sort of safety net we build for all those who share our neighborhoods, cities, states, nations, planet."