Alumni
Taking Her Passion for Food Online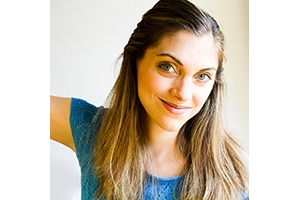 College of Arts and Sciences' alum Kathy Patalsky has always had a passion for food. Majoring in health promotion management, she went on to graduate from American University in 2005.
As with many American University students, her original intent was to use her degree in policy, but with the encouragement of her husband, who recognized her passion for photography, cooking, and writing, she went into business for herself and started a food blog.
"It took a good two years to realize my blog had a chance to be successful," says Patalsky. "In the past year and a half I have seen my number of fans and traffic skyrocket."
Today, Patalsky's Healthy. Happy. Life. has become a very successful blog which, as of February 2013, receives more than 1,800,000 page views every 30 days. Her blog is a collection of recipes, articles, and fun photos all centered on vegan diet and health.
"Most of my readers aren't even vegan. I make my recipes appeal to everyone and, although my fan base is mostly women, there are guys who shared a lot of enthusiasm."
The popularity of Patalsky's blog follows today's growing health awareness, a trend she hopes will continue.
"People are getting excited about their health and diet," says Patalsky.
This interest in vegan and healthy eating is not just limited to Americans, either. "My blog has gained a lot of international traffic," says Patalsky.
The success of the past two years has surprised her. When Patalsky first started blogging, she had no real experience and no idea it would ever be so successful.
Patalsky's enthusiasm for photography and food shows in her blog. Each recipe on her blog is accompanied by a photo. And while blogging has become popular in recent years, she remembers that when she first started there were few bloggers to draw inspiration from. This meant she needed to show a lot of creativity and commitment.
When asked about any fears or worries she had about going into business for herself she was quick to answer: "I just kind of went for it and started writing."
Patalsky did no advertising campaigns to promote her blog; rather, through word of mouth and through hard work and many hours spent in the kitchen she has grown her blog to what it is today.
Patalsky hopes her recipes will inspire people and get them into the kitchen. She brings a lot of energy and enthusiasm to her blog, posting numerous photos. She adds that although her work is centered on cooking and writing, her background in nutrition is essential to her work. It allows her to add layers of knowledge to what she is writing, and it validates her recipes. Her real hope for the blog is that it will encourage and inform people on the importance of eating healthful food and living an active life.
Her passion for vegan recipes is not only for health reasons but because of her "passionate love of animals."  She worked at the Smithsonian's National Zoo all through her college years at AU.
In addition to her blog, Patalsky also writes for other websites such as Babble.com, and she has launched a second website, FindingVegan.com that has become very successful. Patalsky is the author of 365 Vegan Smoothies, which will be published by Penguin Group/Avery on June 4.