Journalism
Drawn to Washington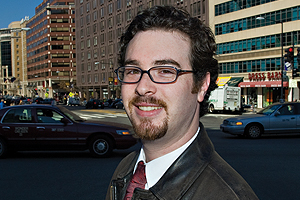 "If America's the classroom, the cartoonist is the class clown," says Nate Beeler, SOC/BA '02. And as editorial cartoonist for the Washington Examiner, Beeler has a ringside seat for the political circus that is D.C.
"The great thing about Washington is that every cartoon about Congress can be a local cartoon," says Beeler, 27. "In addition to entertaining the reader, though, it's also our job to enliven the debate and to offer a point of view that will linger a bit—to give people something to think about. Living and working in D.C. has been a great political education for me."
Long before landing at the Examiner's K Street office, Beeler was clowning around, doodling on desks, and he recalls—scrubbing them after class at his Columbus, Ohio, high school. Still his first cartoon, a caricature of 1996 presidential hopeful Bob Dole, appeared in the high school newspaper when he was a junior.
Upon arriving at AU in 1998, the first thing he did—even before settling into his Letts Hall room—was apply for a job at the Eagle.
"The old Eagle office had a lot of charm," he recalls, a hint of sarcasm in his voice. "The editor in chief looked at me and said, 'Great, when can you start?' And I said, 'How about now?'"
Beeler's work was featured in the Eagle's first fall 1998 issue, and his witty sketches—which tackled everything from student affairs to world affairs—would appear in every issue thereafter, until his graduation in December 2002.
"It was a great time," recalls Beeler, of his days at AU when he also held an internship at washingtonpost.com.
"As I was working for the Eagle, I began versing myself in the history of cartooning and just soaking up other people's work. I started to realize that, 'Hmm, other people are making a living at this.'"
It wasn't until winning the prestigious Charles M. Schulz Award and the John Locher Award in 2002, however, that Beeler realized he too "could take a run at this. The college cartooning awards were the nudge I needed. I thought, 'OK, let's see what happens.'"
What happened was Beeler's newspaper career started out like that of most young journalists: with lofty aspirations and a seat on the copy desk. "I really got into journalism with a desire to contribute to the public debate, but, you have to start somewhere," he laughs.
After working for several years as a copy editor and page designer for the Journal family of newspapers in suburban Washington, he got his break. A Cincinnati paper wanted him as their editorial cartoonist.
When Beeler approached his editor with the news, he implored Nate to stick around. Something big was on the horizon, and if Beeler stayed in Washington, he would have a gig as a full-time cartoonist.
Soon after, in October 2004, Philip Anschutz purchased the Journal Newspapers. Four months later, the billionaire launched the Washington Examiner.
With cartoonists on the endangered species list in some news markets, (according to the Washington Post the number of full-time positions for editorial cartoonists at leading U.S. metropolitan papers has dropped from 200 to 80 over the last 20 years), Beeler says he's "incredibly lucky" to have landed in Washington. "Having a cartoonist is always a risky proposition for any paper, and I'm so thankful they took a chance on me."
Beeler may be grateful the Washington Examiner took a "chance" on him, but he takes his journalism seriously.
Like anyone in the news business, Beeler's nose is always buried in the paper. On the drive to work, he tunes in to NPR, soaking up the day's headlines, sorting out his opinions on the issues, and developing a pun or gag.
By the time he arrives at the Examiner's downtown office, he's ready to sketch. "I get my coffee and I start doodling," he says. "Sketching has a very zen-like quality; you really lose yourself in it, and that's when the ideas start to flow."
By early afternoon, the cartoonist meets with the editorial page editor to toss around anywhere from two to 10 sketches—usually several variations on a single theme. By 4:30 p.m., Beeler's ready to ink his final idea, a process that takes anywhere from two to three hours. "Journalists are notorious for pushing deadlines, and I'm no different," he laughs.
After a few tweaks in Photoshop, Beeler uploads the finished product to his blog, www.examiner.com/blogs/beeler. Then it's home to Alexandria for a few more hours of CNN and NPR, before starting the creative process anew the next morning.
Today, Beeler's internationally syndicated cartoon reaches nearly 750,000 readers daily, but he doesn't take the talent, the job, or the inspiration provided by Washington for granted.
"One of the coolest parts of my day is the drive to work over the 14th Street Bridge," he says. "The cherry blossoms are in bloom, and you've got the Washington Monument and the Lincoln Memorial to your left and Congress to your right.
"It's very easy to take it for granted, but when you look around, you can't help but be impressed that you're living in the epicenter of American politics," Beeler continues. "Living and working in Washington is simply amazing."