Campus News
Measuring the Impact of the Youth Vote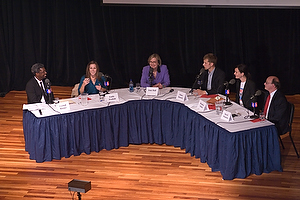 A seismic shift in the electorate just might be ready to rock the political landscape come Nov. 4.
Can you feel it?
"I'm certainly hoping we're seeing a youthquake," Cornell Belcher, a Democratic strategist, said Oct. 14 at the American Forum "Youthquake '08." "I think this is part of a trend. If you look back to '04, you saw youth turnout increasing."
The special 60-minute panel discussion in front of a packed house in the Katzen Arts Center's Abramson Family Recital Hall was broadcast live on WAMU-FM 88.5 and taped by C-Span. Hosted by School of Communication professor Jane Hall, the event was titled "How Millennials Are Shaking up the Media, Mavericks, and History-Makers this Election."
If the interest and enthusiasm of the mostly college-aged crowd was any indication, participation of youth voters—generally classified as 18 to 29 year olds— will be at an all-time high.
"This is going to be a toss-up election and you all are going to break the tie," said Belcher, president of Brilliant Corners, a Washington-based polling firm.
The discussion also delved into what turns young people on and off to the political process. James Kotecki, a video blogger for Politico.com, cited the Monica Lewinsky scandal, the disputed 2000 presidential election, and the decline of bipartisanship after 9/11 as events that discouraged young people from investing their time and thoughts into politics.
"Part of the reason Barack Obama and John McCain are appealing to young people is our generation has been steeped in a very partisan environment and we are looking to move beyond that," he said.
New technologies also have made it much easier for the masses to join the political process. Front and center among these new participants are young people, who are comfortable using newer communications tools such as the Internet, said Heather Smith, executive director of Rock the Vote, an organization dedicated to building the political clout and engagement of young people.
"At Rock the Vote we've focused on voter registration to bring people into the process," she said. "We've used text messages, e-mails, concerts, but most importantly we just asked them. Turnout among the youngest voters in 2004 went up by 11 percent from 2000. There are a bunch of issues we're taking the brunt of, like health care and Iraq, and we're fed up."
An influx of young voters into the political process doesn't necessarily mean a huge boost for the Democrats, argued David Winston, a Republican strategist and founder of the Winston Group.
"If you've got an idea that engages people, that's what matters," he said. "What you see with 18 to 29 year olds is, there's a loose affiliation with party, but they clearly identify with issues. They're outcome focused. It's not that they're for someone who's going to change the environment—they want to change the environment."
Interesting enough, the panelists agreed on many points, including the idea that the issues that matter to young people are the same as the ones that matter to the country as a whole.
"The economy is front and center for all Americans," Belcher said.
"The economy is such an overwhelming issue that it's dominating all segments of the electorate," Winston said. "It is not age based, it's not gender based, it's not race based."
Belcher, for one, does see a Youthquake coming in November, and he's hoping that it tilts the race in favor of Obama.
"You may be looked at as the movement generation," he told the audience. "You all are going to change the face of the electorate, and you all are going to change politics."