Alumni
New Home for SOC to be Realized through Alumni Support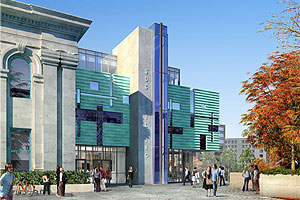 American University will begin transforming the iconic McKinley Building into a new, high-tech home for the School of Communication this year. Already among the top communication schools in the nation, the restored facility will further distinguish SOC as a leading forum for the future of communication education.

The project will enable the School of Communication, AU's only school without its own, dedicated space, to be housed for the first time in one building that will facilitate cross-disciplinary collaboration among students, faculty, alumni, and partners in academia and industry. The new facility, with anticipated LEED Silver certification, will strengthen SOC's capacity to attract and retain the best faculty and students. It will feature digital classrooms, a media innovation lab, a focus group teleconference suite, the latest communication technology, and a 150-seat theater for master classes and screenings.

Momentum is building among alumni and friends in support of these efforts through The Campaign for SOC, which must raise a minimum of $13 million in philanthropic support for the historic project. The campaign is an opportunity for alumni to take part in creating the communication school for the 21st century and advance the level of integration between technology, teaching, and professional discourse at AU and the rapidly evolving field of communication.

"Unique among many brick and mortar campaigns, The Campaign for SOC is about the dynamic life inside the building—the knowledge, innovations, and tools necessary to impact the student experience and the communications industry as a whole," says Peter Caborn, director, The Campaign for SOC. "Alumni ask us frequently what they can do to have the greatest impact on the student experience. Participating in this campaign is a meaningful way to make a major – and necessary – difference in the lives of the next generations of communication leaders."  

The Campaign for SOC offers an array of opportunities to name spaces inside the new facility at varying giving levels, and AU wishes to thank the generous individuals who have already stepped forth with leadership gifts. Additional opportunities can be tailored to align with different financial circumstances and we are happy to work with those who would like to participate to create the most meaningful opportunity possible.

Gifts of every size will help shape the future. We are grateful to all of the AU alumni, faculty, staff, and friends who have supported the effort to date. Dollar by dollar and brick by brick, it is through the generosity, dedication, and support of many that this campaign will reach its goal.