Journalism
NBC Anchor Brian Williams Charms Audience at Reel Journalism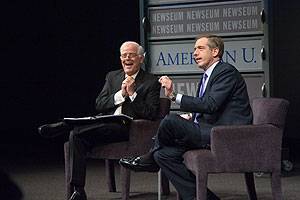 Minutes after delivering the evening news, NBC anchorman Brian Williams was delivering one-liners at the School of Communication's (SOC) Reel Journalism Festival, Jan. 12.
"It's just driving me crazy where I've heard your name before," cracked Williams to moderator Nick Clooney, SOC distinguished journalist in residence, before a packed audience at Washington's Newseum. (Clooney's son George was not in attendance, though NBC News chief foreign affairs correspondent Andrea Mitchell was.)
A self-proclaimed film buff who can recite Goodfellas and "both" Godfather films by heart—"the third one's dead to me," quipped Williams—the newsman selected his favorite journalism flick for Tuesday's screening.

Absence of Malice chronicles the story of Michael Gallagher (Paul Newman), the son of a dead Mafia boss who becomes front page news when a Miami journalist (Sally Field) reports that he's being investigated for a murder he didn't commit. Despite its trio of Oscar nominations, the 1981 movie was unpopular with reporters.
"It's not a lovely depiction of our craft," said Williams of the movie, which explores journalistic ethics. "It's a flawed movie about flawed people—I think we all kind of fit that description."
A New Jersey native, Williams began his broadcasting career in Pittsburg, Kansas, in 1981, where he got his first taste of a sour source.
"Manipulation by sources is as old as the hills and that's when your mettle gets tested," he said. "At KOAM-TV, my first paying job in journalism, a car dealer looked me right in the eye and lied to me—you remember your first time. I've had it happen on national TV, too. The stakes are higher, but the offense is the same."
Williams, who replaced Tom Brokaw as anchor and managing editor of NBC Nightly News in 2004, said all reporters need a strong "moral compass and good editors."
"While, in life, we're measured by how we behave when no one's looking, sometimes it's good when someone's looking," said Williams of the importance of editors.
A regular guest on The Daily Show who counts NBC funnymen Conan O'Brien and Jay Leno among his pals, Williams also has an affinity for comedy. In November 2007, he became the first national news anchor to host Saturday Night Live, and he's also "shamed our family name" on the award-winning comedy series 30 Rock.
"People need to see that you have another dimension," he explained. "When people see me at Costco, they look at me like I'm Neil Armstrong, like, 'What are you doing here?' I'm just buying rotisserie chickens, gimme a break."
Despite his quick wit, however, Williams wants viewers of Nightly News—the highest rated newscast in America for more than a decade—to know that he takes his day job very seriously.
"When you see me at 7 p.m., you can rest assured that no one's worked a harder day to make sure those words are fair and measured and right."