Communications
SOC's Budding Journalists Focus on First-Time Voters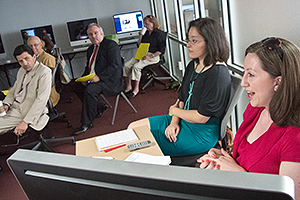 Young people were more excited to watch 2008's historic presidential election from the sidelines than they are to cast their inaugural ballot in November 2012's vote. First-time voters' enthusiasm around the presidential race has been cut in half — from 45 percent in 2008 to 23 percent in 2012 — according to new research by students from AU's School of Communication (SOC).
On May 4, 16 grad students and upperclassmen in Amy Eisman's Writing for Convergent Media class debuted a website chock-full of stories, photos, videos, infographics, and an interactive timeline about first-time voters in the Washington, D.C., area. The content is based on a March survey of 425 inaugural voters at eight local universities conducted by students in Maria Ivancin's Public Communication Research class.
Among the research findings
86 percent of those surveyed are very likely or somewhat likely to vote in November  
69 percent believe voting is "a serious privilege"

76 percent think President Barack Obama will be reelected
the economy, jobs, education, health care, and national security are among first-time voters' top concerns
Based on these statistics, Eisman's students — most of them print journalism majors — crafted 14 feature stories on such topics as
newly naturalized citizens who will vote for the first time
the battle for young, independent voters
children who are "nudged" between their parents' differing ideologies
roommates who only agree on one issue: gay marriage
liberal voters at conservative universities
The students also produced three videos, including one about AU student and Virgin Voting Project founder Noah Gray, and an interactive timeline, which documents the social, political, and pop culture milestones in millennials' lives.
The budding journalists presented their website to a panel that included Vernon Loeb, Washington Post metro editor, SOC dean Larry Kirkman, Ivancin, and other SOC professors.
Loeb, who's considering publishing some of the students' content, praised their work — particularly the ingenuity of the timeline.
"Journalism is a calling, not a 9-to-5 job. You're starting to experience how rewarding it is to create something that's yours," he said.