Communications
School of Communication Co-Hosts Ethnic Media Awards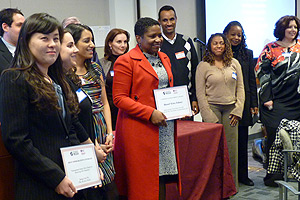 The idea came to her while she was watching television. 
A conservative pundit claimed that every Mexican allowed entry to the U.S. on a temporary work Visa "would never leave." 
"I know my country and its citizens and I knew that wasn't true," said Anne Wakefield who works in the two-person Washington office of Mexico's Grupo Radio Central. Her reporting showed that not only do many Mexicans want to go home, but also that U.S. immigration policies make it difficult for them to do so. It also won Wakefield a regional Ethnic Media Award in the Broadcast category during a ceremony sponsored by New America Media and AU's School of Communication.  
"Your work demonstrates the highest standards of professionalism and the serious purpose of journalism," SOC Dean Larry Kirkman told the winners and a crowd of more than 170 journalists, professors and students. "The work we've celebrated tonight has been driven by the needs of communities to represent themselves and their interests." 
"This is such a great honor," said Wakefield. "It is great to know that I am not toiling in the dark. You are listening; not just the people listening to a small station in Mexico. Maybe together we can do something."  
Bringing together ethnic media outlets to leverage their combined size and reach is the idea behind New America Media, which advocates for the more than 2,000 ethnic media organizations in the U.S. These small print, online and broadcast outlets connect more than 51 million Americans to each other and to their home countries.       
"Our partnership with New America Media and our work in communities throughout the region are central to the mission and goals of American University," said Kirkman. "These awards provide essential compass points for our programs in the School of Communication."  
One of those programs, the Community Voices Project, sends students into ethnic communities in the Washington D.C. area. In the programs' two courses, Unseen and Unheard: Documentary Storytelling in the Other Washington and Race, Ethnic and Community Reporting, students report on many of the same neighborhoods and issues as the ethnic journalists being honored.  
The winning entries are forwarded for consideration in the National Ethnic Media Awards. They include:   
BEST LOCAL NEWS:  
First Place (Tie): "Hardy Students Demand Principal's Return," Norma Porter Anthony, The Washington Informer  
First Place (Tie): "Shedding Light on the Neglected Muslim Consumer Market," Minhaj Hasan, The Muslim Link  
Runner Up:  "Asian Americans Desperately Needed to Join 'Be The Match Marrow Registry'," Cathy Crenshaw Doheny, Asian Fortune  
BEST IMMIGRATION COVERAGE:  
First Place: "Immigration Status Not a Factor in Receiving WIC Benefits," Seng Lim Yu, The Korea Daily  
Runner Up: "Mustafa Center Rises from Humble Beginnings," Sufia Alnoor and Rashad Mulla, The Muslim Link  
BEST INVESTIGATIVE NEWS:  
First Place (Tie): "Separate But Not Equal: Israel's Arab Citizens," Dina Kraft, Moment Magazine  
First Place (Tie): "The Strange Death of Rubén Salazar: Accident or Assassination?" Frank O. Sotomayor, Hispanic Link  
Runner Up:  "Community Health Centers," Paula Andalo, El Tiempo Latino  
BEST ARTS, SPORTS, AND ENTERTAINMENT: 
First Place: "Banned Practice – Music Censorship," Amina Elahi, Divanee.com  
Runner Up: "The Curious Case of Walter Mosley," Johanna Neuman, Moment Magazine 
BEST COMMENTARY: 
First Place: "Prioritizing Politics Over Unity Hurt the Community," Minhaj Hasan, The Muslim Link 
Runner Up: "Fatty, Fatty, Two By Four," Jose de la Isla, Hispanic Link 
BEST PHOTOJOURNALISM: 
First Place:  "Woman Struggling to Read," Carlos Andres Vargas, i, Metrolatinousa.com  
Runner Up:  "Neda Pro-Democracy Demonstration," Ali Khaligh, Iranians Weekly  
BEST FEATURE WRITING: 
First Place (Tie): "Soledad O'Brien Talks Race with The Washington Informer," Shantella Sherman, The Washington Informer  
First Place (Tie): "In the Lord's Time," Neil Rubin, Baltimore Jewish Times  
Runner Up:  "Hurdling Campaign Brickbats May Offer Bully Pulpit Against Racism," Rita Gerona Adkins, Asian Fortune 
BEST BROADCAST:  
First Place: "Mexican Immigrants Returning to their Homeland," Anne L. Wakefield, Grupo Radio Central  
Runner Up:  "Workers' Protection," Armando Guzman, Azteca America

BEST INTERNATIONAL AFFAIRS:  
First Place: "Blogging Suicides: The Death of Foreign Migrant Domestic Workers in Lebanon," Dereje Desta, ZeEthiopia  
Runner Up: "Local Students of Farhar Hashmi Defend Movement Against Accusations,"  Zunara Naeem, The Muslim Link  
CAREER ACHIEVEMENT AWARD:  
Hazel Trice Edney
Editor-in-Chief, Trice Edney News Wire
President & CEO, Trice Edney Communications, LLC