International
Student Globetrotters Descend on Washington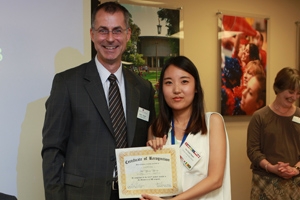 At age 21, Ha yeon Yoon is a long way from home. She hails from South Korea, and she currently attends Yonsei University in Seoul. But she always wanted to visit the United States, and she's getting her chance through the Abroad at AU program. At American University this semester, Yoon is double majoring in business administration and public administration, which she hopes will prepare her for a career in law.
Yoon was also recently honored for being the 1,000 student to participate in Abroad at AU. The program has grown by leaps and bounds since its inception in 2005. In the inaugural class, there were 20 new foreign students at AU, but by the fall of 2013, there are 117 new students. And the current crop of students comes from 35 countries at 50 different colleges and universities.
Alison Nagy, a study abroad advisor for AU, says that the university benefits from attracting international students. "It's not just a learning experience for [the international students], it's a learning experience for other individuals in the campus community," she says. Nagy also believes that an education through Abroad at AU will pay dividends down the road. "These students go on to use the intercultural experiences that they receive here at the university in their careers."
Several Abroad at AU alums interviewed spoke fondly of the program. The journey to AU takes many different forms, but students invariably hope to expand their academic horizons and enhance their career prospects.
Walter Leiva grew up in El Salvador and attended AU in 2009-2010, studying marketing in the Kogod School of Business. While living in Washington, AU helped him land an internship with the Organization of American States. "I then realized that I really liked public administration, so now I'm focusing my career in that area," he says. Leiva parlayed this experience into a policy-oriented job at the Central American Integration System, an El Salvador-based institution similar to the European Union. "I really enjoyed the diversity of the people who attend American University, because now I have friends all over the world," he says, including France, Pakistan, Serbia, and Venezuela.
Qiong Wu hails from Shenzhen, China and she did her undergraduate work in Beijing. She read about the AU program online. "I was struggling with my future, my career choices, and then I saw this program, and I was like 'oh my god, this is like my life-saving magic wand,'" she jokes. She then studied broadcast journalism at AU from 2008-2009. And in her field, AU gave her more hands-on video experience and smaller class sizes. "In China, the [high] population didn't allow each student to have the opportunity to actually touch a camera," she explains. Wu is now a TV producer in Washington for Voice of America.
Like many young international students, Joshua Worger's early impressions of the United States came through one of its richest exports, popular culture. A German native who ended up studying U.S. diplomatic history, Worger was initially enamored with Michael Jackson and the moonwalk. He later embraced hip hop before eventually examining how the world superpower conducts foreign policy. "Somehow since I was a little kid, I've been attracted to the culture in general. And I think it also promoted my interest in American history," he says. A University of Munich graduate, Worger studied at AU from 2008-2009. During that time, he also tutored middle school kids in Anacostia. Worger recently earned a master's degree in international relations from the University of Chicago and just returned to Germany.
The Abroad at AU program fosters stronger relationships between American and universities overseas. And it also reflects an increasingly interconnected world, sometimes referred to as the global village. A University of Nairobi student, Esther Evusa just started this semester as the program's first-ever student from Kenya. President Barack Obama has Kenyan ancestry, and Evusa believes Obama's presence in the White House will encourage more Kenyan students to study in the U.S. But for now, she's focused on getting acclimated to AU. "I always wanted a cultural experience, and that's why I chose to study anthropology. So I could understand people's cultures from another perspective."