Journalism
American Forum Incorporates Facebook, Twitter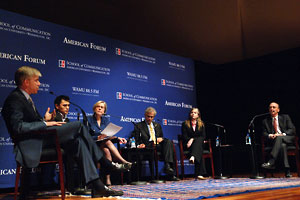 "@davidgregory About to speak at AU's American Forum on Obama and young people."
With that Tweet heard round the 'net, Meet the Press moderator David Gregory '92 signaled that a new kind of American Forum was set to begin.
For more than two decades, the School of Communication series has delved into political and social issues, and for the last eight it's been moderated by SOC professor Jane Hall and broadcast on WAMU 88.5.
But for the first time, last night questions were submitted via an American Forum Facebook group, and people in the audience—and on stage—posted their thoughts using a dedicated Twitter hashtag (#amforum).
"This is a big transition for the program," SOC dean Larry Kirkman said before the show, which was taped live for broadcast tonight at 9 p.m. on WAMU. "This is the first time we've really embraced social media."
That became apparent as soon as the forum began. While Hall directed a panel discussion entitled "Change Plus One: Are Young Voters Talking to President Obama," a soft symphony of fingers tapping keys filled the Abramson Family Recital Hall at the Katzen Arts Center.
Lindsey Carothers '13 was one of the many who listened to the show live in person while watching it on her laptop and monitoring the more than 100 Tweets that were posted throughout the night.
"People were responding to what [the panelists] would say about young people," said the SOC student. "I thought they did a great job of making it very interesting."
When Jose Antonio Vargas, technology and innovations editor of Huffington Post, said that the media need to do a better job of covering young people, @Tensteps2words responded within seconds.
"I cannot agree with you more, the media should recognize that the youth are here," he Tweeted.
The evening offered a glimpse into what SOC and WAMU hope will one day develop into a weekly radio series with a solid online presence, Hall said.
"SOC dean Larry Kirkman and I have been meeting over the past several months with WAMU station manager Caryn Mathes, programming director Mark McDonald and their team to develop the American Forum as a more regular series on WAMU, with a vibrant Web site and social networking that would reach young people and complement the on-air program and on-campus event. We think we've built a great asset and constituency at the university for reaching young people.
"Terry Flannery, the executive director of university communications and marketing, has been wonderfully supportive of our goal to take the American Forum forward. We've been meeting with her new media, marketing and Web team, along with the SOC Web team, to brand the American Forum, add social networking, and, hopefully, help us begin to demonstrate what we can do to a potential funder. It's been a wonderful collaboration, with lots of people working quickly across departments and lines. The possibilities are exciting," said Hall, a former media reporter for the Los Angeles Times.

The conversation was stimulating from the outset of last night's forum, which along with Gregory and Vargas included panelists David Corn, Washington bureau chief of Mother Jones magazine, Erin McPike, a reporter for Congress Daily, and Republican strategist David Winston.
"For the record, Republicans are much more active on Twitter than Democrats," Vargas said during a particularly interesting exchange. "Technology is not a panacea. At the end of the day, this is about content. This is about message."
On this point Winston, who didn't always see eye-to-eye with his fellow panelists, agreed.
"The challenge of the Republican Party isn't learning to use new technology, the problem is learning to talk to 18 to 29 year olds," he said.
Tonight, the young people both physically in the packed theatre and in the virtual audience online, definitely were engaged by what Winston and the other panelists were saying, even if some did have multiple issues on their minds.
"The real question for this forum is whether my battery's going to last," Tweeted @amySwhitelaw.