Achievements
Winning Arguments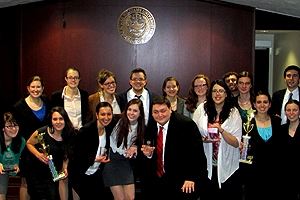 Update, April 16, 2014: At the American Mock Trial Association's National Championship Tournament in Orlando, the AU team placed 4th in its division. With this strong finish, AU placed among the top 8 teams in the entire country. Nationally, more than 330 colleges competed in mock trial this year.

Update March 24, 2014: AU's Mock Trial Team will advance to the American Mock Trial Association's National Championship Tournament in Orlando Friday, April 11 through Sunday, April 13. The AU team was one of 24 teams from 19 schools at the Washington D.C. Opening Round Championship Series Tournament to compete for six spots to advance to the national tournament. This is the second consecutive year the AU Mock Trial Team has advanced to "nationals," placing it among the 48 top collegiate mock trial teams in the nation.

There was one unforgettable moment for Emma Zaballos. As American University's mock trial teams anxiously awaited the results from the Regional round of competition, Zaballos was worried that AU had underperformed. After all, the team coaches had given Zaballos and her teammates a little tough love, helpfully pointing out mistakes and areas for improvement throughout the competition. But then they got the great news.
"The moment when they announced our team number, our whole team just exploded. Despite how much we thought we'd screwed up, we just had a perfect record," Zaballos recalls.
It turns out that March Madness doesn't just apply to the AU men's basketball team. For the first time, all three of AU's mock trial teams have reached the American Mock Trial Association's Opening Round Championship Series (ORCS). Two of those teams will compete in ORCS in Washington, D.C. on March 22-23. If one of those teams finishes in the top six, AU will qualify for the National Championship Tournament (NCT)—the final round—in Orlando in April.
Trials and Tribulations
It's been an eventful and rewarding year for AU mock trial participants. They started gearing up for competition last summer, receiving a packet with the case they would argue about throughout the year. It was a confounding case, involving a fictitious theft at an amusement park—which has since been upped to a felony murder at an amusement park.
"They're far more complicated than the average case you'll encounter in real life, because it needs to be something that more than 500 teams can play with for the entire year. So it's full of little weird details," says Zaballos.
"Even for mock trial, it's pretty convoluted this year. Then there's a whole scheme involving admission wristbands and skimming money off the side. It's pretty wild," adds program president Connor Trafton.
The teams use both witnesses and attorneys during competition. The witnesses are almost like actors or characters, with one person playing the part of amusement park "mascot" this year.
AU took part in a number of invitational tournaments in the fall, and the school hosted its 3rd Annual WONK Trial Invitational in November. The competition got more intense in the spring semester, and AU competed in the Regionals at Pennsylvania State University and Roger Williams University in Rhode Island. Each tournament is four rounds, and a given team will play two rounds for the prosecution and two rounds for the defense.
All of this takes extensive preparation, with AU practicing at least every Thursday and Sunday. "Attorneys who have opening statements or closing arguments will be able to run through those with coaches or with their teammates to make sure everything comes out right. To make sure all of the case theory kind of flows between all of the different moving parts. So it's like a coherent story," Trafton says.
Personal Involvement
Trafton got involved with mock trials even before he attended AU. "In high school, one of my friends just kind of came up to me and said, 'You're on the mock trial team now.' And I was like, 'All right, I have no idea what you're talking about.' But I very quickly realized that I enjoy law and legal debate," he explains. "And it's not just law. There's also a lot of strategy involved, and I really enjoy that. There's a lot of planning and figuring out, 'Well, if their witness says X, we need someone who can say Y to refute that."
Trafton, a senior justice and law major, plans to work for a couple years after graduation, but he is taking the LSAT. He says his experience with mock trial has fed his interest in the law.
Zaballos is a junior double majoring in political science and mathematics-economics. Though she's open to other career opportunities, she's considering law school.
"I love being involved in mock trial. I think it's probably the most valuable activity I've done at AU," she says. "It's a team sport for people who don't usually do team sports. I was never very sporty in high school, but this is a really great way to be involved on an academic team."
Coaching and Chemistry
AU's head coach is career litigator Don Martin. A former coach at the University of Richmond, he was initially impressed with AU's mock trial teams while watching them during competitions. After moving up to Washington, he inquired about helping the AU program. Martin shared coaching responsibilities with then-head coach and current School of Public Affairs assistant dean Jessica Waters before he took over this season.
Martin has nothing but praise for the students. "There are many, many lawyers who practice in courts every day who are not as good as these college fake lawyers," he says. 
He also points out that mock trial can be enormously beneficial for student development. "They learn confidence, they learn public speaking, they learn to think on their feet," he explains. "There are some skills there that can serve them well in any part of their lives down the road. They stand up and make arguments in front of lawyers, and often in federal courtrooms, with some real, actual sitting judges. It can be very intimidating, and they go up against some of the best colleges in the country."
From a distance, it might seem difficult to maintain program chemistry. Though the lineups can be fluid, three separate AU teams have competed in the same tournaments. And mock trial naturally attracts people who might be, well, argumentative.
Yet Trafton says the teams begin hashing out differences of opinion while discussing the case early on. And they've built camaraderie in other ways: They frequently eat and talk in the Terrace Dining Room in Mary Graydon Center, and a few weeks ago they went bowling.
"Since we work together so much, we have joint practices with A, B, and C teams together at once. And we keep that culture of one team and one program," says Martin. "They don't act like lawyers, they act like teammates."