International
Rosiland Jordan speaks at the 15th Annual IMI Conference on Intercultural Relations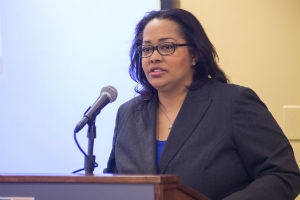 This article first appeared in the International Relations Online Blog.
At the 15th annual Intercultural Management Institute conference, Rosiland Jordan, a correspondent with Al Jazeera English, emphasized the challenge and importance of reaching audiences cross-culturally. Her mission is to produce "good journalism" by approaching every story in a truly objective manner and laying information out "in a way people can understand as clearly as possible."
Producing comprehensible objective news for audiences of different cultures is easier said than done. History, cultural diversity, and language barriers all have the potential to distort a story's true message. Whether you are a journalist delivering international news or a diplomat, you must be aware of and sensitive to cultural differences. Jordan highlighted this point by urging journalists to break down, not reinforce, stereotypes.
One takeaway from Jordan's keynote speech was that we should stop assuming the world we grew up in is the same as the world today by improving our cross-cultural understanding and communication. Drawing on the Cold War as an example, Jordan illustrated how it is easy to fall into the trap of labeling an entire nation of individuals based on past political events. Today's challenge is to analyze and understand cultural differences and to use these differences as a positive advantage.
Managing and recognizing cultural differences is what the IMI strives to instill in the participants of its annual conference. Dr. Gary Weaver, Executive Director of the IMI, is also the professor of International Relations Online at American University's Intercultural Communication course. Through his Intercultural Communication course, Dr. Weaver is working to break down cultural barriers and to teach intercultural negotiation to his students. Students publish an essay within the Intercultural Management Quarterly (IMQ), a publication of the IMI with the same mission to improve intercultural dynamics within global organizations.
Whether you're a student in Dr. Weaver's course, a participant in the IMI's 2014 Annual Conference, or an individual reading Al Jazeera English, Rosiland Jordan's message holds significance for all of us. She closed her keynote presentation with a description of why she and her colleagues work so hard to deliver objective news for universal viewing. She stated she simply wants to "…be a part of the whole that is humanity."
**The Intercultural Management Institute's annual conference was held March 13-14, 2014. The conference serves as an opportunity for leaders and future leaders in the intercultural communications field to learn from each other through each other's knowledge and experience. The participant list includes diplomats, intercultural communications trainers, current students, researchers, military personnel, and many others.