Government & Politics
Maddow Examines Breakdown of Democracy in War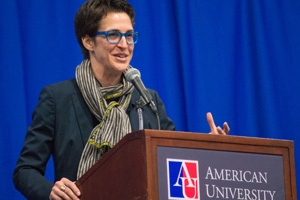 The dedication in political talk show host Rachel Maddow's new book, Drift: The Unmooring of American Military Power, reads like this:
"To former vice president Dick Cheney. Oh, please let me interview you."
Cheney, Maddow said during her book talk Sunday at American University, stands as an example of the democratic process falling by the wayside when it comes to war.
For years, Maddow, an outspoken liberal and former activist, has tried to get answers from Cheney about his involvement in the changing face of American military power, but has been never gotten close to the former politician, or anyone in his family.
"I went to [the Conservative Political Action Conference] just to get Cheney to talk to me," she joked.
Maddow's afternoon talk was sponsored by the Kennedy Political Union, AU's student-run political lecture series. She is the fourth speaker KPU has brought to campus this semester. Former senator Olympia Snowe, reproductive rights activist Sandra Fluke, and senior political advisor David Axelrod also visited campus this year.
Maddow, dressed casually in sneakers, dark jeans, and a blazer, easily connected with the large crowd. All audience members received a copy of her book.
After KPU Director Alex Kreger introduced Maddow, the MSNBC host offered a peek into her book, noting that both sides of the political aisle are responsible for the breakdown of democracy when waging certain wars. She pointed to current events like the Obama administration's use of drones in Afghanistan and Pakistan.
"One way to make it easier to wage war is to do it secretly," she said. "It's easier to go to war if you send private companies instead of soldiers."
Maddow then spoke about how war is funded in this country and how advertising and other media obfuscates the real impact of conflict. The American people can't see how the war machine operates and thus can't push back against it, she said.
Despite her assertion that the legislative impediments for the U.S. going to war have "unraveled," Maddow ended her talk on a note of hope.
"I think we can fix it. And we ought to," she said.
Then she opened the floor to pre-selected questions from the audience. She spoke at length about her work as an AIDS activist and how she transitioned into broadcast.
She was working at a bed and breakfast in western Massachusetts when on a whim she took a job as a sidekick on a local morning radio show. That led to her own show and eventually her post at the now-defunct Air America.
Maddow admitted that she felt wistful for radio, despite her success on MSNBC, because of the intimacy of the medium.
"I miss radio in the sense that I miss not having to wear makeup and I miss that on radio you are speaking into someone's ear," she said.
The event ended with Maddow offering encouragement to the students in the audience. She entreated them to go into public service despite any discouragement they might experience.
"Oh please, run for something." Maddow said. "I really want people who feel earnest about public service not to be discouraged by the creeps who have gone before you."