Television & Film
Student Filmmakers Train Lens on Sugar, Sevres, and Hillwood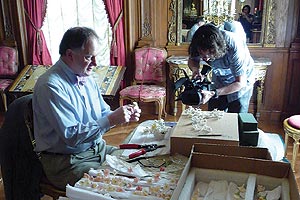 Ask Christopher Richmond what he wants to do with his MFA from the School of Communication and he'll tell you: "I want to make movies; I want to tell stories; I want to share my passion with other people."
It was SOC's network of industry connections and spirit of collaboration that drew the aspiring filmmaker to AU. Now, just a few months into his first semester, Richmond already has his first film credit.
Richmond was among three SOC grad students and one young alumna who crafted a short film for the Hillwood Museum's latest exhibit, Sevres Then and Now: Tradition and Innovation in Porcelain, 1750–2000. The team also included cinematographer Jon Malis; production assistant Garrett O'Brien; and editor Yi Chen, SOC '08. SOC professor Maggie Burnette Stogner served as executive producer. 
"It's wonderful for students to work in a situation that demands a high level of commitment and presents great creative challenges, and then have the pleasure of having their work seen by thousands of people," said Stogner. "This was a great opportunity to showcase SOC and our students."

Sevres Then and Now features more than 90 intricate works of porcelain art from the world's preeminent porcelain factory—many never before seen by American audiences. The exhibit runs through May 30, 2010, at the Hillwood Estate, Museum, and Gardens, the estate of the one-time Washington socialite and General Foods founder, Marjorie Merriweather Post.

The SOC team's film, which includes the installation of a Sevres royal table using plates and statuettes from the 1700s, with a royal garden centerpiece made of spun sugar by culinary historian Ivan Day, is part of the exhibit.

The five-minute documentary gives museumgoers some historical context, says Stogner. "You want to try and recreate the life and times that are represented by the pieces, otherwise people look at something like a plate and all they see is the artifact." The film, which includes an interview with Day, "helps bring the exhibit to life," she said.
Day recreated an elaborate eighteenth-century dessert display for the exhibit, complete with pyramids of confectionery and fruit, chenille parterres, and sugar baskets with pastillage flowers, all surrounded by Hillwood's Sevres dessert service made for Cardinal Prince Louis de Rohan. Working with Day was one of the highlights for cinematographer Malis, himself a studio art major.
"Ivan would constantly be explaining his process or the history of these sculptures, so I rolled a lot of audio coverage," Malis explained. "But he's such an expert and was so fascinating that I was scared of what I might miss by cutting the take."
And while the two-day shoot presented myriad challenges—from space and power constraints to lighting problems, the result of all the mirrors and windows in the dining room—Malis is proud of the finished product.
"I'm grateful for [every] opportunity that allows me to practice my craft and art," he said. "This project was definitely different [than] the longer-form documentaries I've been shooting and directing as of late, and honestly, it was refreshing to see the project cut together barely a week after we wrapped shooting."
As for Richmond, who's since worked on other student productions, the Hillwood shoot "was a great introduction to the sort of collaborations you can get involved with at SOC."
"I love the emphasis on documentary filmmaking—that's why I'm here."