Achievements
Center Honors Three Eco-Conscious Filmmakers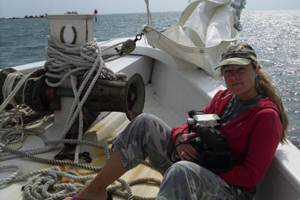 The Center for Environmental Filmmaking has selected three exceptional MFA students to honor for the first year of its Center Scholars program.
Danny Ledonne, Shanon Sparks, and Ellen Tripler will each receive $1,000 to help fund their thesis films. The award is given in recognition of their determination to make films that matter, that make a difference, and that make the world a greener, more livable place.  "All three [scholars] have demonstrated tenacity, creativity, passion, diligence, and integrity," said CEF Director Chris Palmer.
Ledonne's project focuses on the ecological and sociological relationships between humans and ducks. Tripler's thesis considers death and dying as a final opportunity to be green and environmentally responsible. Sparks' thesis explores the beauty of sharks, and dispels some of the fear surrounding the increasingly endangered animals.
Sparks says she chose sharks because ocean conservation is her focus. "I believe that the ocean ecosystem is critical to everything living on this planet, and sharks are one of the most vital aspects of that system. If people can see the sharks as they truly are, vulnerable and vitally important, it will be much easier to rally support for them.  That is what matters to me."
Palmer says the Center Scholars program was made for students like Sparks. "We created the program in order to recognize outstanding performance and academic excellence in students who are dedicated to conservation and the creation of environmental and wildlife films and new media," Palmer said.
Ledonne wants to inspire others with the media he creates, with assistance from the Center Scholars program. "We often take the environment for granted, viewing it as a 'resource' - essentially a commodity.  It is much more than that.  It is, in fact, our source of life, the basis for common spirituality, and the only home we've ever known," Ledonne says.
The scholars were selected as they initiated thesis projects during the second year of their graduate studies. A faculty committee judged each of the entries and granted the awards based on each student's merit and commitment to the mission of the Center.