Alumni
Lindsay Barbour Used a Masters Degree to Launch Finance Career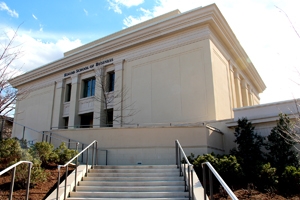 Lindsay Barbour, BSBA '10, MSF '11, wanted to equip herself with as many tools as possible to stand out from the crowd of job seekers in the finance industry. She knew pursuing a master's degree would give her an edge over other candidates. 
The ability to complete an MS in Finance in one calendar year and stay in Washington, D.C. were among the reasons she decided to continue her education at Kogod.

Barbour also liked the small class sizes and access to professors who weren't just academics, but also real-world practitioners. 
"I was already familiar with most of the faculty and the quality of the education I'd be receiving," Barbour said. "I also felt the professors really cared about my well being and future, and that this would carry through to grad school."

She now works at Cambridge Associates, a leading investment consulting firm, as a private investments junior analyst. She is primarily responsible for delivering quarterly private investment performance reports. Her days center on researching and analyzing what has driven past and current returns in a client's portfolio.  
Learning Along the Way  
Experiences both in class and off campus helped prepare her for the working world. 
At a small boutique in Georgetown during the fall of her senior year as a wholesale intern, she learned about what it takes to run a small business, including distribution, accounting, and customer service. 
As a retail planning intern at Rue 21 prior to starting her master's degree, Barbour became comfortable with retail analysis, which is a large part of her current position.

Despite not ending up in the retail field, Barbour counts her internships as valuable work experience that ultimately led her to where she is today. 
While pursuing her graduate degree, Barbour participated in two case competitions and worked as a graduate assistant. 
"Each experience provided me with the opportunity to apply the things I was learning in class and take it to another level," Barbour said. "I was able to connect with professionals and meet other students that I might not have otherwise." 
In the coming years, Barbour hopes to take on a more active role with investment recommendations and interact with fund managers. A small business of her own may also be in the future, but farther down the road. 
"I'm still figuring out exactly where I see my professionally," she said. "But I know from my time at Kogod to jump at any opportunity to learn and work hard."