Alumni
New Eagle Travel Club Offers Exciting Travel Opportunities for Alumni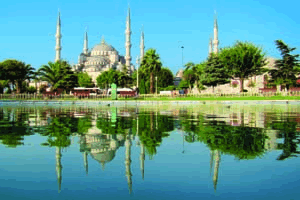 The American University Alumni Association is proud to announce the new Eagle Travel Club. This program provides exclusive travel opportunities for alumni across the globe, of all class years and affinity groups, to interact both with each other and with the university. We are working with AHI Travel, Collette Vacations, GoHagan & Company, and GoNext to provide six exciting opportunities to explore the world with American University and fellow alumni.

The first trip, titled "Heart of Russia: Cruising Moscow to St. Petersburg," will be a 13-day adventure from July 23 through August 4, 2014. The trip will begin in Moscow, and highlights include Red Square, St. Basil's Cathedral, Kremlin Museum, Volga River, Blini & Caviar, visits to local schools and families, a Piroshki Tea Party, Kizhi Island, and a vodka tasting. The trip culminates in St. Petersburg, where activities will include the Hermitage Museum and Catherine Palace.

In Western Asia, we invite alumni to discover a country with a past as compelling as its present by cruising the "China and the Yangtze River." This 14-day journey takes place from September 8-22, 2014. On this trip, discover the secrets of China's mystique and explore the landmarks sights of its finest cities as well as breathtaking countryside. A highlight includes experiencing an exclusive behind-the-scenes day of volunteer work at the Chengdu Research Base of Giant Panda Breeding.

From September 24 to October 2, 2014, you can immerse yourself in cultural enrichment as a part of an eight-day venture featuring ancient Greece and Turkey. From Athens, Greece, the capital and largest Grecian city, the trip highlights expert speakers to help you explore Delos, Mykonos, Santorini, Rhodes, Patmos, and Ephesus. Travel to Kusadasi, Turkey, followed by Troy, Canakkale, and finally Istanbul, Turkey's economic, historic, and cultural heart.

The "Pearls of the Mediterranean" trip—November 7-15, 2014— is your opportunity to cruise to celebrated ports aboard an elegant and inviting ship. On this eight-day venture, participants will explore several Mediterranean treasures such as Monte Carlo in Monaco, and Portofino, Rome (Civitavecchia), and the Tuscany area (Florence and Pisa), in Italy. In France, participants will enjoy one of Europe's oldest cities, Provence (Marseille) as well as Port Vendres. The island city of Palma de Mallorca and Barcelona in Spain will serve as the last stop on the trip.

At the cross roads of Africa and Europe, discover the gems of the Atlantic on an eight-day "Cruising the Canary Islands and Morocco" expedition taking place November 8-16, 2014. The trip will begin in Casablanca and Rabat in Morocco Participants will cruise to the breathtakingly beautiful Canary Islands of Lanzarote, Fuerteventura, Tenerife, La Gomera, El Hierro, La Palma, and Gran Canaria.

On our final trip of 2014, join the centennial celebration of one of the greatest engineering feats of the modern era. An 11-day excursion, "Cerulean Celebration Panama Canal," takes place November 19-30, 2014. Alumni will enjoy warm breezes and marvel at the magnificent feat of engineering and the idyllic landscapes that line the banks of Key West, Costa Maya, Belize City, Roatan Island, and Puerto Limón.
Don't miss these exciting opportunities. These programs focus on experiential travel that will not only provide memories but will also yield rewarding educational experiences. For more information, join the Eagle Travel Club.