Government & Politics
Economic Health / Health Economics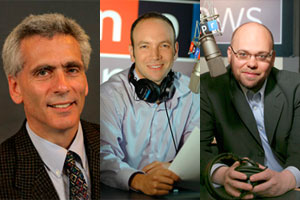 On October 28, the College of Arts and Sciences will present two lectures addressing the health of the nation's economy.
At 5 p.m., Jared Bernstein, chief economic advisor to Vice President Joe Biden, will present "Keynesian Stimulus in the 21st Century: What Have We Learned from the Recovery Act" in Ward 2. This lecture is sponsored by the College's Department of Economics, the Kogod School of Business, and the School of Public Affairs.
Bernstein's lecture will examine the progress of the Obama administration's economic stimulus policy. The event is part of an interdisciplinary series examining the past and present effects of the financial crisis, hosted by the Department of Economics and the Kogod School of Business.
"Bernstein […]  has a long-standing commitment to making the U.S. economy more equitable," says Robert Blecker, event organizer and economics department chair. "We look forward to Dr. Bernstein's speech to find out not only how well the stimulus policy is working at the macro level, but also whether it is bringing an economic recovery to Main Street as well as to Wall Street."
Bernstein has served as the deputy chief economist at the U.S. Department of Labor and has directed the Living Standards Program at the Economic Policy Institute in Washington, D.C. He has coauthored several books and has been referenced in numerous publications, including the New York Times and the Washington Post.
At 6 p.m., the College will present "The Health of the Economy / The Economics of Health" in Wechsler Theater, featuring NPR correspondants Adam Davidson and David Kestenbaum. Cosponsored by the School of Communication, this event will be moderated by literature professor and NPR correspondent Rachel Louise Snyder. The event is part of the Bishop C.C. McCabe lecture series.
The two will discuss economic recovery initiatives and the current health care reform debate.
Davidson and Kestenbaum are both contributors to the NPR multimedia project Planet Money. Davidson has covered international business and economics for NPR since 2004. Prior to reporting for NPR, he was the Middle East correspondent and general assignment reporter for PRI's Marketplace. Kestenbaum has covered science, energy issues, and recently, economics for NPR since 1999. He currently teaches journalism at Johns Hopkins University.