Television and Film
SOC Hosts Filmmaker Jennie Livingston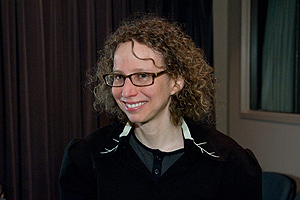 Award-winning filmmaker Jennie Livingston offered tips and testimony to some 30 students and staff on April 1.

The filmmaker's documentary, Paris is Burning, is an inside look into the underground culture of gay balls in New York City in the 1980s and early '90s. During the presentation, Livingston also shed light on  the process of and obstacles to filming documentaries and getting noticed, as well as on the economic circumstances of many of the subjects in the film, and how they managed to keep up appearances in the midst of poverty.

"You don't have to be gay or lesbian or transsexual to have feelings like you're not pretty or you don't make enough money," she said. "They're some of the things we're dealing with now [in this economy]. They kept up their appearances where they could keep up."

Asked if she would do another documentary as a follow-up to Paris is Burning, Livingston said it was not likely. "It was seven years of my life and I sort of gave it my all," she said. "Sometimes when people do sequels, they don't do it as well."

However, there are currently preparations for a musical based on Paris is Burning. "Who knew there would be a musical about a documentary?" she mused.

The event was sponsored by the Center for Social Media, Multicultural Affairs, and the Gay, Lesbian, Bisexual, Transgender, and Ally Resource Center.