Alumni
ATV Alum Takes Skills to Reality Television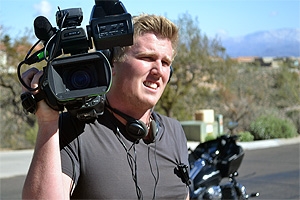 After graduating last May, School of Communication alum David Grant hit the ground running.

Then he slept on it.

"I went straight up [to New York City] after graduation and slept on my sister's floor," he says of landing an unpaid internship in the notoriously expensive Big Apple. "It didn't really matter as long as I could do something I wanted to do. The exposure was perfect."

The former general manager at AU's student television studio ATV wasted no time jumping from his studies to working life, as he was able to transition what he learned in class and with ATV into the growing market of reality television.

Prior to graduating, Grant connected with an AU alum at Sharp Entertainment during one of SOC's networking visits to NYC. That connection made all the difference, as Sharp produces reality programs ranging from Man vs Food to Extreme Couponing for networks like the Discovery Channel, National Geographic, TLC and others.

Mere days after leaving the classroom, Grant was interning for Nat Geo's Doomsday Preppers before being hired as a production assistant for a full season of Iron Chef America and the season finale of The Amazing Race. In addition, he was hired as associate producer for the upcoming Travel Channel show Feed the Beast.

As a film student at AU, reality television hadn't been a line of work on his radar. Through his connection, it was something he just fell into.

"I watched reality shows, but I didn't know if it was something I wanted to do. Like every film student, I wanted to do feature films," he says. "It wasn't something that I intended originally. It hadn't ever crossed my mind."

Even so, Grant now finds himself on location in Phoenix, Arizona, working on the Discovery Channel's new show Property Wars as an associate producer, and he's thrilled about it. He spends his days scheduling, heading out on shoots, helping craft sound bites, and supporting his team's producer as needed.

"It's a lot of stuff," he says. "It's a great thing, though. I could not be happier to be out there."

His tireless work ethic – working everyday of the week and overnight shifts first as an intern with Doomsday Preppers – has advanced him quickly to the role of associate producer, something normally farther down the road for someone his age.

"To a lot of people I work with it seems like, 'Wow, you're twenty-three, and you're doing this.' I try to steer away from [the fact] that I graduated in May," he explains. "I worked as hard as humanly possible so I would not fall into a rut or coast around. I think that mentality really saved me."

Aside from his drive and determination, the political science minor credits ATV for giving him real-world skills that have led to his success.

"ATV helped me a ton. The technical skills were big. Learning how to use all the different cameras, editing systems, programs," he says. "Being familiar with the jargon...and the social aspect. A lot of the people I deal with out [in Phoenix] have similar personalities to those I work with at the studio."

Having also studied abroad in Prague with other international student film makers, Grant was just as relentless in his studies and extracurricular camera work. He shot a number of shows with ATV and entered the campus's 48-hour film festival each year.

He's a shining example of what American University's hands-on, experiential education can do for a student.

"ATV was my life when I came [to AU]. When I found ATV in my sophomore year, I was a huge fan, loved it, and was in there all the time," he says. "Anything involved in filming I would do."

If Grant hit the ground running after graduation, he was certainly at least in a full sprint while at AU, and – finally on solid footing with his newfound career – his pace shows no signs of slowing down.