Alums Become Staff in Campus Life
By Patrick Bradley
October 18, 2012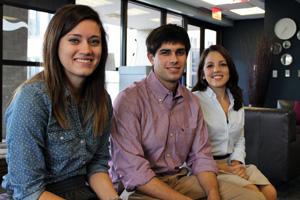 AU is well known for its internships. In fact, it's been listed by U.S. News & World Reports as the number one university in the nation for student internship opportunities.

Still, the university has a whole host of opportunities on campus that prepare students for the professional world beyond or – in the case of many graduates – transition them to great jobs at AU, particularly in the Office of Campus Life (OCL).

Class of 2007's Laura Matteo has spent a combined almost nine years at AU – four as an art student in the College of Arts & Sciences and more than four as a staff member in Campus Life. Currently, she's assistant director of administration and OneCard programs with Housing & Dining Programs, the OCL department that employs the most AU alumni.

Matteo believes that Housing & Dining Programs (HD&P) offers students a number of avenues to transition from work-study to full-time employment in AU's living-learning community.

"AU has always had really great opportunities for their students to get involved. Especially in Housing and Dining, we employ over one hundred and fifty students each year, between our RAs, desks receptionists, and campus hosts over the summer," she says. "I had that opportunity through my work-study scholarship to work in Campus Life."

Becca Kany, '12, also enjoyed on-campus work during her four years as a School of Communication student. She held posts as a resident assistant for Letts Hall, a desk receptionist for Student Activities, and a DC Reads team member before she came on as HD&P's web content coordinator.

Between the on-campus jobs and her numerous public relations internships, Kany felt more than confident of her skills and experience when she graduated.

"AU pushes you to internships and real-world experiences. So many of my PR classes brought in PR agencies for us to work with," she says of her time with Ogilvy, DCI Group, and Allied Integrated Marketing. "My résumé, when I graduated, was full. I had a ton of stuff to put in it. [Students at] most other schools, they don't have anything to put in. Student positions here are robust enough where you're getting real-world experience."

Assistant resident director of Letts, Clarke and Roper Halls Ryan Eskow, '12, spent four years managing AU's men's basketball team while also working as a campus host, student receptionist, and orientation coordinator.

He sees all these opportunities as not only having brought him to post-graduation employment but also as having shaped him into the person he is today.

"Working at the university as a student really taught me a lot of skills that I would need working for AU or anywhere as a professional," he explains. "A lot of it's overarching and all-encompassing as far as growing personally through the experiences, and that growth allows me to be the person, employee, and assistant resident director that I am today."

Whether in the opportunities on campus or around DC, Kany believes AU's reputation holds students to a higher standard. It's something that's helped develop her professional skill set.

"People expect a certain thing when you're an AU student," she says. "They expect a certain level of work from you as an intern. They push you. It's nice to get that experience and respect automatically as an AU student."

For Matteo, who is also president of AU's Young Alumni Association, all of her experience and preparation as a student led her back to AU for one, simple reason – it's a fantastic place to work.

"It's really a great environment. Everybody's really friendly," she says. "It's a young, fresh environment. Especially the students that work for us, they're working for us to make living on campus a better place for our students. You can definitely see that kind of drive in our employees. It's what we're here to do."

So, as many AU students study and work on campus throughout their undergraduate careers, they can look beyond graduation and know the university that has offered them so much experience is also an employer ready to use that experience toward making American University an even better place for students, faculty, staff, and alumni.