Alumni
Anne Mahlum Is Back in Washington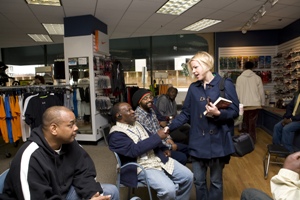 In the darkness and drizzle of a dreary March Monday morning, life was looking bright to Chris Moskowitz.
Though the sun had yet to rise, his forehead was drenched with sweat. He had just returned to Clean and Sober Streets, the shelter he currently calls home, from a mile jog with Back on My Feet, a nonprofit running club founded by Anne Mahlum, SOC/MA '03, to help recovering addicts lift their bodies, minds, and spirits.
Started in Philadelphia in 2007, the organization unveiled its Washington chapter March 22 with an early-morning run through the empty streets of the capital.
"I used to be in excellent shape," said Moskowitz, 38. "I'm really looking forward to getting back to where I was—in everything. I'd like to get back in shape and find a job."
The concept of running as a catalyst for substantive social change strikes some—particularly nonrunners—as odd. But Mahlum learned the sport's therapeutic power as a teenager dealing with her own problems, and it's a lesson she never forgot.
"There are so many metaphors that surround it," she said. "The discipline it takes to be a runner is extraordinary. If you're going to go out and run 10 miles and you haven't trained, you're not going to make it. If you're going to try and take shortcuts, it never works. The same thing holds true in life. You just have to keep moving forward."
That mantra has led Mahlum on a journey from her native North Dakota to Philadelphia and now, back to Washington, where she attended graduate school at American University. At the beginning of this month, she moved to Washington to play a greater role in fighting homelessness and addiction.
"To really have an impact we have to have a presence in D.C.," she said outside the Second Street Northwest Washington shelter where she too was unwinding after the inaugural run.
Washington is Back on My Feet's third chapter. Mahlum conceived of the idea while living in Philadelphia, where her running route took her past a group of men hanging out near a shelter every morning.
"I remember looking back at them and thinking, 'I'm cheating them,'" she said. "I'm running by these guys every morning, moving my life forward physically, spiritually, mentally, and emotionally. This is the best part of my day, and I'm leaving these guys in the exact same spot."
Mahlum sprinted into action. She contacted the shelter to see if any residents would be interested in a running club, and sent out e-mails to everyone she'd ever known asking for donations of shoes, shirts, or money.
Nine men were. From those nine and one volunteer—Mahlum—has grown an organization whose budget was more than $3 million last year. Before the D.C. chapter opened, 650 volunteers and 200 shelter residents were Back on My Feet members. Washington joined Baltimore and Philly, and in May Boston comes on board. Mahlum sees no limit to how far it can go, and one day hopes to expand to New York and Los Angeles.
In each city the organization establishes teams at shelters. Residents, known as members, must attend an orientation where they sign a dedication contract and goal sheet. The team runs three days a week starting between 5:30 and 6 a.m., and all members are required to attend every day.
Volunteers run with each team and coordinate social events. After two months, members with at least a 90 percent attendance rate move into the Next Steps phase, where the organization assists them with job training programs, educational scholarships, and securing housing.
That's all off in the distance for Moskowitz and the other members of the new D.C. chapter, but just one day in, progress already is tangible.
"This morning allowed me to get rid of a lot of negative energy," said Moskowitz, a New York native who came to Washington in October. "It's got to come out. I was starting to feel real down, but now I feel a lot brighter."