Education
Education Student Speaks at National Conference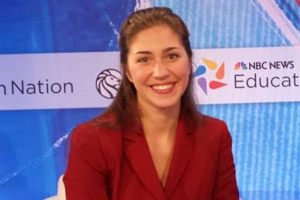 When it came time for Reka Keller, BA elementary education '16, to pick her work- study at AU, she chose to be a part of the Jumpstart program. "I wanted to make a bigger impact than a desk job might," she says. "I was happy to see so many programs that took place outside of school." Jumpstart is a national early education organization that recruits and trains college students and community AmeriCorps members to serve preschool children in low-income neighborhoods.  
Keller initially declared a broadcast journalism major, but once she joined Jumpstart, she saw the kind of change she could make in the classroom. "I got to go into the classroom with Jumpstart and get a hands-on experience with teaching," she says. She changed her major to elementary education soon after. "I knew I wanted to do something where I could make a difference. I think that's why a lot of people come to AU."  
When Keller went into the classroom on her first day with Jumpstart, she was nervous but prepared. "Jumpstart created curriculum that took eight years to develop," she says. "Going into the classroom with teachers that knew the curriculum and supported it made me feel extremely comfortable."  
It wasn't all easy, though—she had a big group of students depending on her. "I walked into the classroom with the other Jumpstart participants and realized there were 20 three- year-olds starting at us expecting us to do something," Keller says. "We were expected to know exactly what was going on. It was a big adjustment."  
Keller was assigned to a low-income preschool in the Anacostia neighborhood of Washington, D.C. When she told her friends at AU that she would be working in Southeast, D.C., some of them were taken aback. "They looked at me wide-eyed," she says. "But now I know these kids. I know these families. These kids are the same three-year-olds that you see playing on playgrounds in upper Northwest." 
It didn't come as a surprise to those who knew her when she made the switch to focus on education. "During high school, I worked in a children's library, and I was the first non- voting student member of the Board of Education," says Keller. "I can't believe it didn't occur to me before to choose education, but eventually I came around." 
Stacia Jackson, Jumpstart's senior site manager at AU, recognizes Keller's value to both AU and Jumpstart. "Reka is an extremely passionate, poised, and dedicated student," she says. "She has been able to really reach children and help them get ready to succeed in kindergarten. Reka is a true asset to our program and a wonderful reflection on American University."  
Keller's participation in Jumpstart led her to be nominated to attend the NBC News Education Nation Summit, a three-day summit on the future of education, which took place October 6–8 at the New York Public Library. She was invited to take part on the What It Takes: A Great Start panel, which included the governor of Delaware, the executive director of the Office of Early Learning in Delaware, the vice president of the Urban Investment Group at Goldman Sachs, and the director of preschool services in Salt Lake City's Granite School District.  
She also got to attend the larger town halls, both student- and teacher-focused. While she's been exposed to students from low-income schools, the experience of a group of students in Newark, New Jersey, still surprised her. "The students were talking about the shooting in Newtown, Connecticut, and about how at their own school, they go through metal detectors and have security guards," Keller says. "The kids said that school is the only place they feel safe. I hadn't thought of that—I came from such a small town. For them, school is a way out."  
The gathering of students, educators, and policymakers, even those in the tech field, inspired Keller to want to do more. "It was inspiring to see how many people really care about education," she says. "The corporate world, school systems, private schools, and technology companies all have the same end goal, but a different view on how they can affect and achieve it."  
While Keller's not sure of the next step after graduating in a few years, she knows she wants to be part of the education conversation. "Whether it's helping shape policy or being in the classroom, I just want to be there making a difference," she says.