Alumni
Legacy Families Celebrate AU Commencement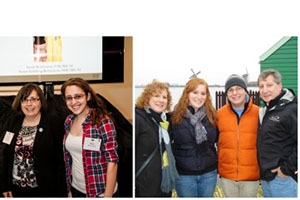 While American University gained more than 2,400 new alumni at its 128th commencement ceremonies this past Mother's Day weekend, graduation also brought a significant alumni group back to campus: legacy families.

"When I first started in the fall of '77, the cafeteria was not open on weekends. We started off only taking four courses a semester, the library was still being built, and the red line only went up to Dupont Circle," says legacy alumna Susan Goldring Rubinstein , SOC/BA '81, reminiscing about her experiences at AU.

Susan is a legacy alumna because her daughter, Sara Rubinstein, CAS/BS '14, also attended AU. Sara graduated with a degree in mathematical statistics from the College of Arts and Sciences this month. Of course, Sara's experience was somewhat different than her mother's in the '70s. They agree that the food is much better now and staying in touch, especially while studying abroad, is significantly easier than three decades ago. "I was halfway across the world in Australia video chatting on my laptop with my family," says Sara. 

The Legacy Alumni Network is a new AU network that includes over 1,300 alumni and students who are the children, grandchildren, parents, or grandparents of an American University alumnus/a. It recognizes those families who've made AU a family tradition. This network officially launched last October during All-American Weekend with a breakfast and pinning ceremony. This spring, legacy seniors were given a special gift at Toast to Graduates as well as two VIP seats and a reserved parking space for family attending commencement.

Rachel Annunziata, CAS/BA '14, is another legacy who graduated from the College of Arts and Sciences. She says she's proud to claim both her parents as legacy alumni - Lauren Annunziata, Kogod/BSBA '84, and John Annunziata, Kogod/BSBA '84, who met while in the same program at AU.

Like the Rubinsteins, the Annunziata family commented about the ease of staying in touch compared to 30 years ago. "When my dad studied abroad, he had to write letters to stay in touch. But when I was abroad, I could speak with anyone at a moment's notice through Skype or an app on my phone," said Rachel.

Both legacy families also marveled at what they shared in common while attending AU. They say that AU has grown in size but retained its beauty and its supportive faculty. "We fostered relationships with our professors, which helped throughout our college years and beyond," reflects Lauren. Lauren and John Annunziata both mentioned close relationships with Professor Emeritus David Martin, who helped them obtain internships and first jobs while at AU. Similarly, their daughter, Rachel, added, "I am really proud to be graduating from SETH [School of Education, Teaching and Health], as I have learned from some of the most passionate and caring professors who have helped to create a supportive community of wonderful, future teachers."

Both generations reflect on the strong friendships they made while at AU. "I am a member of Phi Sigma Pi, the national co-ed honors fraternity. Most of my great memories involve that group, and most of my lasting friendships will be with other members," says Sara. Similarly, John Annunziata, a member of AU's Phi Sigma Kappa fraternity, recounted how his friendships with his fraternity brothers have lasted several decades. "My brothers have shared most significant events of my life: my wedding, the births of my children, birthdays, and many other significant milestones in our lives," says John. It is clear that AU plays a strong part in the lives of these legacies.

Next fall, these families can reconnect again at the second annual Legacy Breakfast and Pinning ceremony scheduled during All-American Weekend, on Saturday, October 18. This event will encourage legacy alumni and students to network with others who make attending AU a family custom.