Alumni
Film Director Meyers '70 Lands 'NY Times Magazine' Cover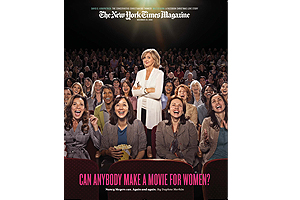 One of AU's brightest stars, Hollywood heavy-hitter Nancy Meyers, SOC/BA '70, graces the cover of the Dec. 20 New York Times Magazine. 
Dubbed perhaps "the most powerful female writer-director-producer" in the business, Meyers's latest romantic comedy, It's Complicated, opens Christmas Day. The film stars Meryl Streep, who received a Golden Globe nod earlier this week for her role as Jane, a 50-something divorcee who's having an affair with her ex-husband, played by Alec Baldwin. Steve Martin, who also appeared in Meyers's blockbuster Father of the Bride series, rounds out the cast as an architect smitten with Jane.
The Times feature, by Daphne Merkin, explores Meyers's penchant for making films that "both feature and speak to middle-aged women" — a demographic often overlooked in Hollywood.
Merkin writes that, "in a movie culture consumed by youth and its trappings — vampires, werewolves, stoners and superheroes — Meyers's decision to pay attention to a part of the population that is often construed (and often construes itself) to be invisible stands out in bold relief. . . . 'She's a pioneer with regard to representing older women,' Diane Keaton said over lunch at the Beverly Hills Hotel. 'She's the only one delivering the fantasy for women over 55. You're beautiful, charming and you get two guys instead of one.'"
After graduating with a degree in journalism from AU, Meyers, a Pennsylvania native, headed to Los Angeles, where she worked as a production assistant on The Price is Right. Her first film, 1980's Private Benjamin — which starred another AU alumna Goldie Hawn — garnered Meyers an Oscar nomination for best screenplay.
She's since turned out such box office hits as Something's Gotta Give, What Women Want, The Holiday, and The Parent Trap.
Meyers, 60, also received a 2009 Golden Globe nomination for best screenplay for It's Complicated. The 67th annual awards ceremony will be broadcast Jan. 10, 2010.