Television and Film
'Reel Journalism' Screens 'The Soloist' in D.C.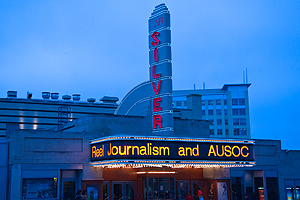 The film doesn't open until April 24, but the AU community got a chance to see The Soloist on Tuesday night, followed by a glimpse behind the scenes with the man whose story it tells.

Los Angeles Times columnist Steve Lopez, played by Robert Downey Jr. in the film, spoke with the audience after the film about his unlikely friendship with a gifted musician who is homeless, schizophrenic, and plays on the streets of Los Angeles.

AU's School of Communication showed the upcoming movie in Washington, D.C., as part of the film series "Reel Journalism with Nick Clooney," moderated by distinguished journalist in residence Clooney and coproduced with the Newseum.

SOC and the Newseum "are on a mission," noted SOC dean Larry Kirkman in his introduction, "to use these great films about journalists to promote widespread discussion of the role of journalism as a profession and as a social responsibility."

It was journalism rather than social responsibility that initially drew Lopez to speak with Nathaniel Ayers, played in the film by Jamie Foxx. Lopez was in pursuit of a good column. Ayers was living out of a shopping cart, playing Beethoven near a statue of the great composer, articulate but often incoherent.

A little digging by Lopez showed that Ayers had been a prodigy with a scholarship to Juilliard in the 1970s but dropped out when he was stricken by schizophrenia and ended up on the streets, calming his inner demons with music.

The columns touched readers, who sent donations of musical instruments – one cello in the film, several cellos and violins in reality – prompting Lopez to realize that leaving Ayers on the street with valuable instruments would make him a target for attack. As he became more involved in helping Ayers, he began to understand the hardships that face the mentally ill homeless and those who care about them.

His series of columns attracted competing movie offers even before they were turned into a book. When he met with producers – including those who finally produced The Soloist – he pointed out one problem with filming the story: "I don't know how it ends."

 "We promise you," one team assured him, "it won't end with him conducting the Philharmonic." Those were the producers who won the deal. Their commitment to the truth at the core of the story – an unromanticized story of a difficult friendship – is part of what drew him to choose them.

While preparing for the roles, actors Downey and Foxx accompanied the real Lopez and Ayers on one of their visits to the symphony, sitting behind them and "watching us watch the concert," with Foxx recording Ayers' muttered thoughts.

But they didn't try to capture an exact portrayal of the real-life counterparts. The movie version of Lopez is recently divorced – homeless himself, in an emotional sense – while the real columnist is happily married. Not a problem, Lopez said. "I said to Downey, 'What's the point of artistic contribution if you're just going to copy?'"

What was important, he said, was to keep the focus of the film on the friendship and show the humanity of the mentally ill homeless. Ayers is not always easy to be around, will probably never hold a steady job, and will certainly never realize his great promise, Lopez said, "But he has found something I feel few of us find in life. He knows his purpose and has a passion."

It's only one person's story, Lopez said. "But I like to think, in humanizing Nathaniel, it's a step to humanizing thousands of people like him." He recalls what one homeless advocate said of people who are mentally ill and end up among the homeless: "They are our brothers and sisters, our sons and daughters. Let's treat them with respect."

Orchestras around the country will be doing fund raisers tied to the film. The Soloist was provided to Reel Journalism by Participant Media, an entertainment company that focuses on socially relevant, commercially viable films, documentaries and television. SOC and the Newseum partnered with Participant Media and Paramount Pictures for the event.