Student Life
America's Most Political Students React to bin Laden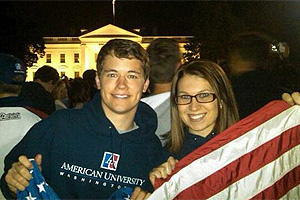 As President Obama prepared to address the nation late Sunday night, American University students—recently called America's "most politically active" by the Princeton Review—responded in historic fashion to the news that Osama bin Laden was killed by U.S. forces in Pakistan.
Hundreds of American University students swarmed to the White House, gathered on the campus quad, and crammed into lounges and dorm rooms. Students demonstrated their patriotism and expressed support for the military and President Obama. They closely monitored Twitter, Facebook, and the old fashioned television for emerging details and impromptu assembly plans.
Megan Ackerman '11 was one of the first people to check-in on Foursquare at a "Post-Osama Bin Laden World" outside 1600 Pennsylvania Avenue.
"The scene was unbelievable. People were climbing trees and singing, it was a completely unplanned gathering," said Brendan Pryor '13, a justice major. "For a day we weren't Democrats or Republicans. We were all Americans."
American University students gave interviews Monday about growing up in a post-9/11 world and what news of bin Laden's death means to them.
Last week, an AU class completed a project "Growing Up in the Shadow of 9/11." These School of Communication students set out to examine the impact September 11, 2001 has had on the Millennial Generation.
Their survey shows that college students and recent graduates—who were as young as 8 when the attacks occurred—are more likely to follow the news, study foreign relations, learn foreign languages, and be politically active because of 9/11.
"Even though members of our generation were children on Sept. 11, 2001, they understand the ramifications of that day, and they are elated that the mastermind behind the attacks can no longer orchestrate these types of horrifying acts," said Cara Kelly a graduate student studying journalism. "For me, personally, I think it is the first time we have been able to declare a solid victory since 9/11."

"Our generation carries the weight of what happened that day," said Ashley Bright, also a graduate student studying journalism. "The Millennial generation has spent our entire adult lives so far living in the shadow of 9/11, and we learned through our survey and reporting that this generation has intelligent, insightful things to say about the attacks. Young people are following the news and taking stock in what's happening to our country, and there's no greater example of this than what happened Sunday evening after Osama bin Laden's death."

Even AU freshman were getting involved. Noah Gray abandoned his books and rushed to the White House camera in tow to interview revelers and document the evening. Gray—a communication student—produced a video and had this piece published by CNN.com.
American University professors also expressed their expert points-of-view. Faculty provided in-depth commentary and analysis on bin Laden's death and the long term impacts it will leave.