Television & Film
Amazing Pace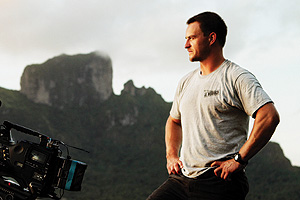 Camera on shoulder, Eric Freeburg waded deeper and deeper into the murky water. On a dock clear across the pond congregated a group of people, "survivors" millions call them without a hint of irony, whose every breath he needed to record.
Freeburg crept closer, minnows, mosquitoes, and mysterious creatures nipping at his flesh. Now knee deep, he glanced down and noticed bubbles encircling his left leg.
It was a bright, blazing hot July day in Gabon on the west coast of Africa when Freeburg felt sharp pinching where the sun don't shine.
"I knew right away a leech had attached itself to my butt," Freeburg, SOC/BA '00, says. "I slowly got out of the water and pulled my pants down. There's no way you can pull it off — it's too slimy — so my camera assistant, who carried my tapes and batteries, also salt in a ziplock bag, had to toss the salt on my hindquarters, from the farthest distance he could."
Freeburg was living his dream.
Six years earlier he had packed his worldly possessions — a cooler with mustard, bread, and cheese for sandwiches; a sleeping bag and tent; a bag of clothes — into his cup holder-less dark green 1989 Acura Legend and driven cross-country to Los Angeles, where he planned to become an adventure cameraman.
That was it; that was the entirety of the plan. He had no money, job prospects, or even a professional camera.
Seven Survivor seasons, four Amazing Races, and two Emmys later . . .
"I feel incredibly lucky," says Freeburg, 34, who visited 30 countries while working on the reality television shows. "I saw the world."
Freeburg was a Boy Scout during his childhood in upstate New York. He loved the outdoors, and from the moment he first paddled a kayak on the Saranac River, nothing else mattered.
"It quickly took over my life," he says. "It was all I thought about."
He went to American University to study visual media at the School of Communication and train on the Potomac, where the rapids near Little Falls Dam are world-class. When he finished 13th at the 2000 whitewater slalom U.S. Olympic trials, he retired from competitive kayaking without regret and turned his focus to filming.
"I saw Survivor on TV and said, 'that is the ultimate dream,'" he says.
"I wanted to travel the world and I knew being outside was something I could handle. I couldn't believe there was a job like that."
But how to make it a reality? When he arrived in California, Freeburg slept in a tent beneath the stars on the beach at Leo Carillo State Park in Malibu.
"I'd get away with not paying by driving in at 10, and I'd leave in the morning before anyone got there," he says. "I was totally broke."
But not flat busted. Freeburg had one contact, a working cameraman he knew through kayaking. Seems this fellow had a contact at Survivor. That's the way these things work in Hollywood.
"He wouldn't give me a phone number, but he gave me the address," Freeburg says.
So each day Freeburg drove his car-home to the Survivor lot and begged for a meeting with someone. Anyone. Worn down by his persistence and charm, security guards and secretaries eventually relented. He was granted a face-to-face with a producer, who was impressed enough with his kayaking experience and overall moxie to hire him as a camera assistant for Eco-Challenge, a Survivor-like show set to film in Fiji.
In the South Pacific Freeburg paddled camera operators around in a kayak, but soon was pressed into duty when one broke his foot.
"I got to shoot a team quitting, but I ran out of tape at the dramatic moment," he says. "So I rewound and taped over the boring stuff. It definitely worked out."
His efforts were appreciated enough to land him a spot as a cameraman on Survivor.
"In the environment we had, everyone had to be very physically fit and gung ho," said Doug McCallie, a one-time executive producer on Survivor. "You had to run and jump and shoot through difficult terrain and in rough conditions. These guys are a rare breed; they're not studio cameramen. They're physically fit and tough, and willing to be in a jungle or desert and somehow manage to deal with all the stress and problems of not getting enough food or water, of being hot or cold, and still managing to shoot artfully. Eric's pretty stoic in a way, and yet when the heat is on he goes and kicks ass."
Freeburg crewed on the show for seven seasons, sharing an Emmy for best cinematography in 2010 (he also won one for his work on Out of the Wild, an adventure reality show set in Alaska).
The work was alternately thrilling, tedious, and taxing.
"It's always raining, and it's always hot," he says of the conditions, regardless of locale. "You're trying to keep the lens from fogging and the equipment dry.
You know when two people walk off they're about to talk about something important, but you can't alert the rest of the tribe that they're going to talk.
You have to kind of sneak away. You're trying to tread lightly. There's a lot of sitting around and watching people sleeping and eating rice."
When he wasn't working, he was partying. The art directors constructed fake bars for the crew, but the booze was liver-blackening real. In Samoa he learned to crack coconuts; their juice alleviates hangovers. Longtime crew members became expert fishermen, often catching one in the morning and serving it as sashimi for dinner.
The adventure was just what Freeburg craved — this was no desk job. He went on to shoot four seasons of the Amazing Race, following teams in a sprint around the globe.
"I felt like I was going to die in the front seat of a cab many times," he says. "It's fast paced, more exciting than Survivor. At Stonehenge my contestants couldn't drive stick and they were trying to pull out into a double-lane highway. One day in India we were watching cremations in the Ganges River. We walked 10 feet from 10 bodies being burned. You caught a whiff of it and you knew not to inhale anymore."
It's been a dizzying decade since Freeburg left AU, and he's ready to stop racing around the world. Now a camera operator on Keeping Up with the Kardashians, he's looking to settle down, sleep in his own bed every night, and develop his own reality series.
"My goal is to find regular people and follow them around in their crazy lives," he says.
Sounds like he's looking for someone like Eric Freeburg.